United States
USA goalkeeper Tim Howard still chasing greatness at 38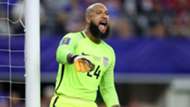 SANTA CLARA, Calif. — Tim Howard has played more than 600 competitive matches for club and country over the course of a 20-year professional career. That's more than 5,000 minutes spent diving and jumping, and falling and crashing into opponents. That's more than a thousand saves and countless aches and pains that have slowly taken their toll on Howard's chiseled, but aching frame.
Sometimes it's easy to forget that Howard is now 38 years old, and juggling the double duty of still playing for club and country, taking on a grind that few goalkeepers can still handle at his age. You see him make big saves like he has made during the 2017 CONCACAF Gold Cup and you think he's invincible. That is far from the truth. He isn't invincible, but rather fiercely determined to keep chasing success on the field even as it becomes a tougher and tougher struggle.
"Day to day it's hard as hell," Howard told Goal of what he does to keep himself healthy and fit enough to keep playing for the U.S. national team and Colorado Rapids. "I feel good where I am physically come match day, but to get to that point is — at this stage — is very difficult. I have to commit every day to making sure that all my treatments and my rehab and all of my rest is geared toward match day.
"That's what happens when you get to be older," he added. "You can't leave anything on the training ground. Where before I would train every day and go for hours and hours, now you just can't, because if I did I wouldn't be prepared for match day."
The list of starting international goalkeepers who have the number of games Howard has, and are still playing at a high level like Howard, is a short one. Really only one player comes to mind — Italian legend Gianluigi Buffon, who at 39 remains one of the world's best even though father time is knocking on his door.
Howard is a big admirer of Buffon, as is any goalkeeper wears the gloves, but his respect for Buffon goes even further because he is one of the few who can truly appreciate what Buffon has done, and continues to do, playing more than 800 combined games for club and country.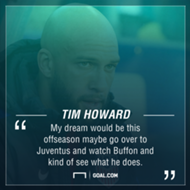 "My dream would be this offseason maybe go over to Juventus and watch Buffon and kind of see what he does," Howard said. "Obviously that's something I would love to do. I haven't quite figured out logistically how it would work. I want to see what I'm doing right, and what I can incorporate, and how he does it. That's a different level. Match day, then Champions League, then playing for his national team."
Howard is enjoying an excellent run of form for club and country, having recovered from a groin injury that sidelined him for four months after last November's World Cup qualifiers. He has retaken his spot as the U.S. starting goalkeeper, and since joining the Gold Cup squad for the knockout rounds, he has posted a pair of shutouts, making big saves in each match to keep his team from falling behind in key moments.
"It's hard really to put into words what he means to the team and what he brings to the table," U.S. defender Matt Besler told Goal. "His communication with the defenders is the best that I've ever seen. There's moments in the game when the ball goes up the field and you think you're done with the play, but he keeps you locked in."
U.S. sets sights on Gold Cup title
"Teams are going to get behind (the defense) sometimes, and teams are going to get their chances, but we know that (Howard) is going to come big for us," U.S. defender Omar Gonzalez told Goal. "Just like he did last game against Costa Rica. They only got in behind twice but both times he came up huge. It's a big confidence booster for the defense knowing we can count on him."
So what keeps Howard motivated to continue pulling double duty at an age where most players are retiring from national team duty, if not from the game altogether?
"It's a love affair. I've fallen in love with competing," Howard said. "It's like a drug. You want more of it. You want to push the boundaries of what is possible for yourself, what people have done before you. Winning and competing is enticing to me. It still gets my juices flowing. I wouldn't have thought it would be this long when I was younger, but I've been lucky. I've been lucky with injuries, I've been lucky to have some good coaches, and some teams I've had good fortune."
A combination of talent and good luck has helped Howard enjoy a career he could have only dreamed of as a kid growing up in New Jersey. From his storybook move to Manchester United, to his decade spent as Everton's starter, and his three World Cup experiences, Howard has seen it all and done it all.
Howard has always been a confident player, but underneath that confident exterior is an underlying fear that has driven him his entire career, including when he made the biggest move of his career, joining Manchester United via transfer in 2003.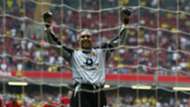 "I think I was scared to death," Howard recalled of his move to Manchester United. "I've always had this fear of failure, and I still have it today. It drives me, but the difference with me is, at the end of the day, there's success and there's failure and ultimately it's whether you believe in yourself or not. I would always rather try and fail than not try at all."
U.S. isn't missing El Tri in Gold Cup
Howard's first season in the English Premier League was a dream, as he became Manchester United's surprising starter, earning Team of the Season honors along the way.
"I was a goalkeeper who needed to develop and learn, but when you get thrown in at the deep end you figure it out," Howard said. "I think for who I was as a goalkeeper I thought I did pretty well. I was 23 years old, I knew nothing about goalkeeping at the time. Compared to what I know now, I knew nothing.
"At the time what I do remember consciously thinking was 'I'll just try to use the tools that I have,' which was raw athletic talent. Fly around, make some saves and hope for the best."
Fourteen years later, Howard no longer relies on athleticism to bail him out. Instead he has a wealth of knowledge and experience that has turned him into a more cerebral goalkeeper. One who can still make the jaw-dropping save, but now he's one who can put his defenders in position to keep the danger away, while also making the big save when needed.
How much longer will Howard keep going? The 2018 World Cup appears to be a reasonable target for the end of his national team career. It would mark his fourth World Cup, and there wouldn't likely be much left for him to do for the U.S. at that point. The reality though is that he can't even look as far ahead as next summer because of the battle he wages to keep his body in shape to play.
"I would imagine so," Howard said when asked if the 2018 World Cup would mark the end of his national team career. "It's hard. It's day by day with me, it's game by game. I take things in segments. The goal for everybody is to get to and through that World Cup. Outside of that I have no idea. That's my target. I have another two seasons after this on my contract (with the Colorado Rapids so we'll see."
Howard will be 40 when his Rapids contract expires, a good time for him to stop and enjoy time with his two children. He can't think about the end just yet though. He is fully committed to fighting the aches and pains, and the competition of younger goalkeepers, to keep enjoying the thrill of winning games, and winning trophies, and adding to a resume that is already good enough to be considered one of the best ever put together by an American soccer player.
"Some people get tired of it and then move on and you don't remember their names," Howard told Goal. "To me, I want to be great. I don't know if I am great. I don't know if I'll ever get to that level, but I'm chasing greatness every day."