Ligue 1
Super Mario's World: 'Balomania' as Nice hammer PSG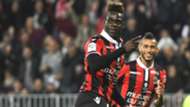 Nice's dream of winning the Ligue 1 title may effectively be over, but they are still a side fighting tooth and nail to finish second in the standings, and they produced perhaps their best performance of the season to beat Paris Saint-Germain 3-1 on Sunday night.
Of course, Mario Balotelli was to the fore as Lucien Favre's men halted their run of conceding the opening goal in games. Instead, the 26-year-old Italian showed too much strength for compatriot Marco Verratti before dispatching a left-footed shot beyond Kevin Trapp to give his side a half-time lead.
Ricardo Pereira's fine second added to PSG's frustration, with the ex-Liverpool man clearly relishing the situation as some showboating led to a irritated challenge from Blaise Matuidi, who was booked.
Balotelli might have been withdrawn with Nice 2-1 up deep into the second half, but his replacement Mickael Le Bihan created a third as the visitors had a mental meltdown.
"This is NOT Paris," Balotelli posted on his Instagram account, parodying the capital side's slogan while praising Stathis Donis, who headed the third goal.
Crucially, though, Balotelli is thinking to the future. "Now let's think on the next one. Paris it's the past."
Now only three points behind the defending champions, second place remains a possibility for the Allianz Riviera side, with the striker leading the charge on 14 goals. His popularity in the city continues to grow, too.
This was emphasised by the club comparing his popularity to the Beatles with a video they posted on Instagram earlier in the week. It was a clip met with resounding approval by its star, who professed his "love" for it.
Certainly, Balotelli loves to show off the lifestyle he enjoys in the south of France, which is befitting a superstar, with this neat picture of him apparently aboard one of the giant yachts that are permanently taking anchor in the Cote d'Azur – one of Europe's hottest celebrity destinations.
 

A post shared by Mario Balotelli (@mb459) on Apr 24, 2017 at 7:19am PDT
One can only imagine what Mario was looking at through his binoculars, but it was probably his next victim.
That might well have been his brother, who was seemingly the unwitting victim of a pretty terrible photo. "1-0 for Mario," was the cheeky comment directed towards Enock, who offered little reply but praise for his brother's goal against PSG.
A post shared by Enock Barwuah (@enock17) on Apr 30, 2017 at 2:10pm PDT
If you have ever wondered what music Mario listens to in order to get fired up for a big match, he gave what may well be a glimpse into his favourite playlist of the moment when he played a tune by Paris-born rapper MHD, who has enjoyed great success in the French charts.
The tune in this clip is entitled 'AFRO TRAP Part.7 (La Puissance)'. "It's the power," is the lyric that Balotelli has chosen to highlight, and he certainly showed plenty of that on Sunday night.
Meanwhile, MHD has also done a track named 'Champions League' – and that's exactly where Balotelli has fired Nice to next season.
If they can overtake PSG to jump into second place, that will mean automatic qualification to the group stages, but with three matches remaining, that is still a tall order. Nice will face another big match next weekend with the south coast derby against Marseille – opponents Balotelli has already found the net against this season.
The apparently dethroned champions, however, first play a home match versus bottom side Bastia.