AIFF Super Cup
Super Cup 2018: Edu Bedia's antics let FC Goa down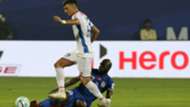 We often see football club captains referred to as 'Captain, Leader, Legend!' by the supporters out of sheer respect for how they lead the club from the front. Regardless of the skipper's position on a football pitch, he is expected to take responsibility and steer his team in the right direction even when your back is against the wall.
On Monday, FC Goa midfielder Edu Bedia led his team out onto the field after a difficult and tumultuous week for the club. In-game suspensions and retrospective bans forced a nonplussed Derrick Pereira to name a 14-member matchday squad with just three substitutes on the bench.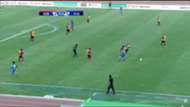 Edu Bedia failed to see out the whole game as a depleted Goa lost to East Bengal after Dudu Omagbemi scored the winner in the 79th minute. He was sent off just three minutes after Dudu scored for a ridiculous challenge from behind on Ansumana Kromah. And a 10-man Goa failed to come back into the game without their skipper and one of their best players in midfield.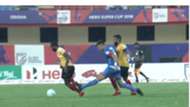 The most absurd moment of the game was in the 24th minute after Seriton Fernandes' late challenge on Katsumi Yusa provoked Edu Bedia who ran to the referee to protest. Making a verbal complaint to the referee is totally fine but mocking him is not.
The skipper looked to the sidelines and made a hand signal to call for VAR. The sarcasm was evident to all present but hand gestures used to mock the referee or his actions in the game have been punished with yellow cards around the world but Edu Bedia escaped.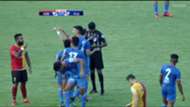 His luck didn't last long as the midfielder's challenge on Khalid Aucho with no intention of going for the ball earned him his first yellow in the 37th minute. FC Goa's stand-in captain was brilliant on the ball as usual. Every now and then he would play a sublime pass forward to single-handedly unlock the East Bengal defence. But his reckless attitude on the field hurt Goa in the second half.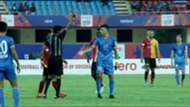 After losing the ball in midfield, the Spaniard poked Ansumana Kromah from behind using his leg right in front of the referee, leaving Santosh Kumar with no option but to pull out a second yellow and send him off. As if his first half mockery wasn't enough, the captain offered a sarcastic handshake to the referee before leaving the field.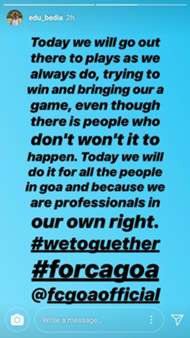 It wasn't as if Goa were totally locked out of the penalty area. They had their chances but they weren't at their best after the mid-week ruckus and the captain just projected it out for the whole world to see. Before the game, Bedia had posted Instagram stories to term the Super Cup as a 'circus' and to announce that he, along with his teammates, will take the field professionally but after that semi-final, he would probably want to just forget the past week and move on.