India
Tri-Nation Series: Stephen Constantine - Playing teams from Africa and the Caribbean a big test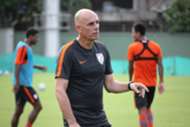 Indian national team head coach addressed the gathered media on the eve of the 2017 AIFF Tri-nation series opener against Mauritius in Mumbai. The London-born spoke of how the two matches serve as the perfect platform for his side to face Macau next month in the quest to qualify for the 2019 Asian Cup.

"My initial plan was to play one game preferably close to Macau or Hong Kong or Chinese Taipei. When the opportunity came to play two games that gives me more time as there is no league around and it gives me the opportunity to try new players. So we wanted one team from Africa, one team from the Caribbean and one team from Asia and you get a four team tournament"

"The timing of the games are difficult. This time most teams are away for pre season so It was quite difficult to get the teams back. I'm just happy we have got two opponents that can give us different problems and an opportunity for us to get acquainted with each other. We haven't played since June, give 2-3 days to understand each other, it is difficult from that perspective," he said.

However, Constantine was not one to demean the quality of opposition.  "Look we are not going to disrespect or underestimate the two teams that are here. I know Mauritius have been here a couple of times before they only recently lost to Ghana 2-0 and trust me you don't lose 2-0 to Ghana unless you are doing something right."

"St. Kitts are not exactly Jamaica buy have a similar style and philosophy so both these teams bring something new to us. If we want to compete at the top level we need to play countries from different continents instead of just playing just Asian teams. Now we are going to have a real test playing against an African team and get a team from South America, Caribbean."

The Cypriot-Briton has chosen a host of players from the recently concluded AFC U-23 Asian Cup qualifiers in Qatar. He laid down his plans for the future. " The vision is to qualify for the Asian Cup and try to compete with the big guys in Asia.  First, we need to qualify for Asian Cups on a regular basis before we qualify for World Cups."

Constantine, who has handed debuts to more than a score of players in his second spell since March 2015, said he will not cease to give talent a platform. " I've said this many times before, I've always tried giving opportunities to young players before. I've given international debuts to over a hundred players. That will not stop as long as I see the talent. The purpose is to see if they have anything to offer, as soon as I see they don't have something to offer they're gone"

"Sandesh (Jhingan) was one such young boy three years ago. He is now the captain for tomorrow's game. That process will continue. As long as we have that quality, balance, and determination."

He also spoke about how it will be important to nurture the players after the ensuing FIFA U-17 World Cup at home gets over. He commented, " What happens next is important. What happens to those players after this World Cup. Who is going to sign them. We need to make sure that these boys have some sort of passage. same  for the U-19. We have a World Cup in India everyone is thinking about the world cup, whether we do well or not. but what happens afterwards if important."

The Quinquagenarian also wished Gurpreet Singh Sandhu the best on his return to India with Bengaluru FC. " Look I think he has made his decision and he should respect it. It's important he goes somewhere he will play. He did not start at Staebek. It was a concern for me, I talked to him last year and told him he needs to be playing to get to the next level. He needs to get 20-30 games under his belt after that if he wishes to he can go out after that it's his decision."
 
He also reiterated that the Indian Super League and I-League running continually will not mean players from the latter league will not be noticed for the national team. "I've picked players from Armies, Academies. I-League or ISL doesn't matter. We picked players from Universities. There are two players in the team from the scouting network we had set up, they weren't anywhere now they are in the national team," he concluded.