MLS
Rooney: I won't go on loan to Europe this winter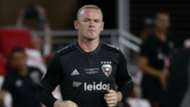 D.C. United striker Wayne Rooney has confirmed that he will not go on loan to a European club this winter.
Rooney has been in fine form for United since joining the club in July, tallying 12 goals and seven assists to help United to a huge midseason turnaround. 
The 33-year-old's double last weekend helped DCU clinch a playoff berth with one game remaining in the season, after the club won just two of its first 14 matches. 
Several MLS stars have gone on loan in Europe during the offseason in the past, including David Beckham, Landon Donovan and Clint Dempsey. 
But the former Manchester United star confirmed in an interview with ESPN FC that he will not be following in their footsteps. 
"No. I think I committed myself to D.C. And that's why I'm going to give everything to D.C. In the offseason I'll stay here for a lot of that time with my children in school. I'll go back during Christmas to see some family and friends," Rooney said. 
"I'm committed to D.C. and I don't think it'd be right for me to fly back and forth to play on loan with another team."
Rooney also confirmed he was not interested in a return to England duty should Gareth Southgate show interest. 
"I think [England] are doing fantastic. It was the right time for me to retire with the group of young players. It was the right time to let them come in and flourish in the team. I have no regrets over it," Rooney said. 
"I think the players have stood up and done really well. Hopefully they can go one step further in the next international tournament and get to a final."