Juventus
Ronaldo's red card a reminder Cristiano can be as petulant as he is prolific
12:54 AM GMT+4
20/09/2018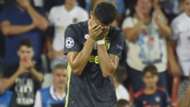 Cristiano Ronaldo's European debut for Juventus wasn't supposed to end in tears.
The forward and the Champions League are football's great love affair; two commercial behemoths that keep untold millions in revenues rolling through the gates.
The equation is a simple one: UEFA gives its most famous son the stage to shine, and Ronaldo pays the federation back in kind with cartloads of goals and bare-chested celebrations.
It is a formula that has delivered the striker four Champions League titles in just five seasons, and all indications suggested that the romance would continue in 2018-19 despite the player swapping Real Madrid for Juventus.
Destiny, however, had something else in store for Ronaldo. A red card given for a spat with Valencia's Jeison Murillo 28 minutes into this season's Champions League bow will lead to an automatic one-match suspension, with the potential for him to miss a return to Manchester United next month, and it brought into focus that other, rather more unsavoury side of his personality that is often overlooked.
In truth, Ronaldo had cut a fuming figure right from the opening minutes in the Mestalla. Playing up front alongside Mario Mandzukic in a Juve team shorn of its most dangerous playmaker, the benched Paulo Dybala, he struggled to find his place on the turf as Valencia looked to put on the squeeze.
Ronaldo ambled from left to right in a bid to look for space, peppering goalkeeper Neto early on with two shots that failed to threaten the scoreline. For a man who proclaimed that his double at the weekend had succeeded in banishing the anxiety that accompanied such a big career move, he was still evidently nervous and uncomfortable.
Nevertheless, he came close to racking up an assist early on when a scuffed volley fell kindly into the path of Mandzukic. The Croat, however, made a total hash of his chance, and Ronaldo was left silently scolding his partner as the game remained goal-less.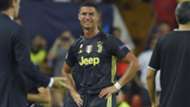 Minutes later, and as the Valencia defence were working miracles to keep the ball out in a frantic scramble, the Portugal captain was to be found prostrate and pleading for a foul after going down in an off-the-ball clash.
Cristiano was ready to burst, and it was Murillo who found himself in the wrong place at the wrong time. The Colombia defender tangled with Ronaldo in the area while Juve worked the ball out wide, and upon falling to the floor, the Portuguese grabbed Murillo by the hair.
There seemed little violent intent in the gesture, more a case of a petulant star putting Murillo in his place than trying to karate chop his jawbone into tiny fragments. But there was no doubt that it was an aggressive, ugly gesture against a felled opponent, and referee Felix Brych was probably right to take the plunge and send off the Juventus player.
Not that Ronaldo saw it that way. In a performance more likely to win him an Oscar than a sixth Ballon d'Or, he collapsed in the manner of a swooning western damsel in distress, before bursting into tears and leaving the Mestalla pitch with steam coming out of his ears.
Parallels with last year's Supercopa clash with Barcelona at Camp Nou are impossible to avoid. Then, Ronaldo received a five-match ban for pushing the referee after receiving a red card, the second yellow for a dive in the penalty area.
In that instance, his absence was sorely felt by Madrid, who dropped four points in the four Liga games Ronaldo sat out and never really recovered, eventually finishing a disappointing third behind Barcelona and neighbours Atletico.
The Champions League, of course, saved Madrid and Ronaldo's season, as well as cementing Cristiano's legendary status in the competition.
But he could now miss Juve's next three games in Europe, depending upon how UEFA view the incident, a stiff price for his first-ever red in the tournament and a blow to the Old Lady, who make no secret of the fact that his arrival was planned specifically with continental glory in mind.
They managed to triumph in Valencia without him, thanks to two penalties from Miralem Pjanic, but this was a timely reminder that when it comes to Ronaldo, who has now been sent off 11 times in his career, one must take the rough with the smooth.
Cristiano has nearly always been as petulant as he is prolific.