Premier League
Ronaldinho proud to be an inspiration for Pogba and Sterling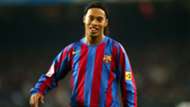 Barcelona legend Ronaldinho is proud of being considered an inspiration for Manchester United midfielder Paul Pogba and Manchester City's Raheem Sterling.
Ronaldinho ready to play again - agent
Both men have spoken in the past of how they idolised the Brazilian forward growing up.
The World Cup winner was a superstar in his day, claiming two World Player of the Year prizes during a memorable spell at Camp Nou.
He has recently expressed a desire to prolong his playing career, with his agent admitting that various options are being considered.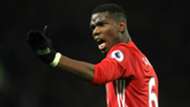 At 36 years of age, he is now past his peak but his performances when on top of his game helped to inspire a generation of talent who are now putting in "world-class" displays of their own.
"It's very emotional for me to inspire world-class players – people like Pogba and Sterling, they are already among the best and it's great to see them scoring the goals that make people love the sport even more," Ronaldinho told FourFourTwo.
'Pogba risks becoming like Memphis'
Tottenham midfielder Dele Alli is another of those to have talked of his respect for the Brazilian and Ronaldinho admits that he saw similarites between his game and that of the England international after seeing him net a spectacular strike against Crystal Palace last season.
"I saw Dele Alli's goal last year and it looked like a goal I would like to score – there is just no explanation for goals like that," he enthused.
"It's thrilling to inspire someone to score such a great goal; I can barely put it into words."
Ronaldinho also revealed that he remains a big fan of Manchester United captain Wayne Rooney, with the long-serving striker having recently become the Red Devils' all-time leading goalscorer.
'We all aspire to be like Rooney'
"Among the English, I still like Wayne Rooney," he remarked.
"He has skill, shoots well and protects the ball. He is steady – never on the ground. I have always liked his style."