Nemanja Matić
Revealed: What Mourinho's note to Matic said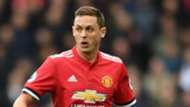 Nemanja Matic has revealed what was written on the note passed to him by Jose Mourinho during Manchester United's win over Chelsea on Sunday.
The midfielder was handed a piece of paper by his coach, prompting many to guess what his message was, especially as United went on to beat their rivals 2-1.
 

A post shared by Nemanja Matic (@nemanjamatic) on Feb 26, 2018 at 5:24am PST
But Matic has joked that the Portuguese coach had merely written a personal message for the Serbian with some good news on it, instead of a master tactical plan to help his side get the three points.
Ex-Chelsea player Matic posted an image of him holding the piece of paper on Instagram alongside a close up of what he claims was a promise of a holiday from his boss.
"You have three days off," it said.