UEFA Champions League
Revealed: What Manuel Neuer really said about Arsenal
12:49 AM GMT+4
21/02/2017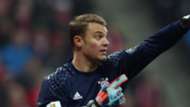 Manuel Neuer has been quoted as referring to Bayern Munich's 5-1 victory over Arsenal as being like a "holiday" across the UK media, but the goalkeeper's words have been widely mistranslated.
Bayern stormed to a four-goal lead in the first leg of their Champions League last-16 tie at the Allianz Arena last week, leaving Arsene Wenger's men on the brink of exiting the competition.
Arsenal players banned from chewing gum
Neuer, who's enjoying a midweek off with no game until Saturday against Hamburg, put a message on his Facebook page for his 9 million followers on Wednesday that raised many eyebrows when simply run through Google Translate.
Many English language media outlets translated the 30-year-old's post as: "After the holiday last Wednesday, yesterday was a hard day of work again."
However, what Neuer's post actually translates as is ever-so-slightly - but crucially - different to what's been widely reported.
Neymar to face trial after losing appeal
"After the celebration last Wednesday, yesterday was a hard day of work again," the World Cup winner wrote.
Neuer's enjoyed 14 clean sheets in 2016-17 from 31 games under Carlo Ancelotti, who replaced Pep Guardiola when he joined Manchester City in the off-season.
Reigning German champions Bayern are five points clear of RB Leipzig at the top of the Bundesliga with 13 matches left to play.