Kelantan
Points reprieve for KAFA but no go for Imam
12:58 PM GMT+4
19/06/2017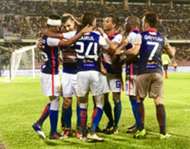 Football Malaysia Limited Liability Partnership (FMLLP) has decided not to allow Kelantan Football Association (KAFA) to register Seydi Imam but has reinstated three points back to their league campaign.
Earlier this season, FMLLP had handed down a 6-points deduction to KAFA following their failure to comply with the requirements needed to register the team for the 2017 season. However following a delegation sent to FMLLP to share a payment plan for the amount in arrears, the deduction will be halved.
With that, Kelantan will be on 17 points, shooting them up from eight spot to fifth, ahead of both Selangor and Felda United - who are only on the same number of points but both have inferior goal differences compared to Kelantan.
However FMLLP chose to remain with the transfer ban enforcement as the proposed moves do not bring a positive change to KAFA's finances. This means that with the transfer window closed, Kelantan will have to continue with only Mamadou Danso, Morgaro Gomes and Abou Bakr as their only imports for the rest of the 2017 season. 
Despite an improvement with regards to the points deduction, 31 October 2017 remains a date important to Kelantan football as they will have to ensure that all arrears are paid off and documentation provided to FMLLP or risk being demoted to the Premier League for the 2018 season.