Paul Pogba
Happy Pogba will make history at Man Utd, just like he did at Juventus – Roberto Pereyra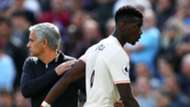 Watford star Roberto Pereyra believes that his former team-mate Paul Pogba is happy at Manchester United and will make history at the club, just like he did at Juventus.
Pogba's future at Old Trafford is currently shrouded in doubt following a series of run-ins with manager Jose Mourinho.
Most recently, Mourinho told Pogba that he would never captain Man Utd again under his watch after the Frenchman appeared to publicly criticise his manager's defensive tactics.
This has led to widespread reports that Pogba is looking to quit the club for Barcelona, PSG or even old club Juventus, who he will play against in the Champions League on Tuesday night at Old Trafford.
However, Pereyra believes that his ex-colleague is still happy at Man Utd.
"I don't know if Pogba and Mourinho have problems or not," Pereyra told Goal in an exclusive interview.
"The last time that I saw Paul, I spoke with him and he told me that he was happy there in Manchester, that he was there with his family, that he was settled. He was making the most of things.
"Then, certainly some things happened there between them but I don't believe it was anything that serious."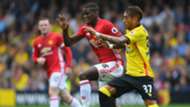 While at Juve, Pogba developed into one of the best midfielders in the world but since joining Man Utd two years ago for a then-world record transfer fee of €105 million (£89.3m), his form has been inconsistent and the subject of much criticism.
Pereyra is in no doubt, though, that given time Pogba will be a big success in Manchester.
"Paul is a great player, that there is no discussion," he insisted.
"I have played with him and he has amazing quality. He does things which not just any footballer can do.
"It is true that at Juventus he did very well and now at Manchester United he has struggled a bit but it is still early.
"I believe that if he is still at Man Utd next year or in two or three years, he will make history there."
Pereyra played alongside Pogba at Juventus from 2014 to 2016, winning two Scudetti and two Italian Cups together.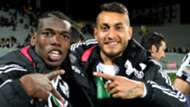 And the Argentine has fond memories from his time in Turin.
"They were two very beautiful years for me," recalled Pereyra, who is enjoying an outstanding start to the current Premier League season with Watford.
"I learned many things at a great club with great players. I learned a type of mentality and professionalism that is inside the dressing room of the club. These are things that you do not find in many clubs in Europe."
Pereyra went agonisingly close to winning an historic treble in his first season at Juventus, but the Bianconeri were beaten 3-1 in the 2015 Champions League final by a Lionel Messi-inspired Barcelona.
"My memories of that game are a bit ugly because we lost but I am happy because it was my first year at Juventus," the 27-year-old said.
"We only missed winning the Champions League, we won everything else. I came on as a substitute in the final for 15-20 minutes, I don't remember exactly how long.
In that moment of the game [at 1-1 when Barcelona scored their second goal] we were doing well. It was a shame that we lost but I am happy about that year because we gave everything."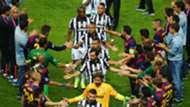 The season Pereyra left Juventus to join Watford in a £11.5million ($15.2m) transfer, the Italians reached another Champions League final only to this time lose 4-1 to Real Madrid in Cardiff.
The Bianconeri have now lost a record five Champions League finals in a row, with many critics believing that the club now has a mental problem in these showpieces.
Pereyra, though, disagrees that this is the reason Juve have gone 22 years without lifting the Champions League.
"I believe we have had a bit of bad luck," he reasons.
"The mentality of Juventus is rivalled by only a few clubs in Europe. Maybe it just comes down to a bit of lack of concentration or a little slack moment of play and you lose the game. And against great teams like the Real Madrid they lost to, you can't give away anything."