PKNS
PKNS FC shortlisting three locations for new stadium
12:58 PM GMT+4
23/03/2017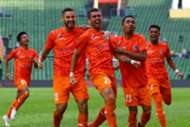 ---
BY        ZULHILMI ZAINAL       Follow on Twitter
---
Super League side PKNS FC are reportedly looking to build their own ground, and are currently considering three locations.
Club president Siti Zubaidah Abdul Jabar told Bernama that the locations are Shah Alam, Kota Puteri in Ijok or Bernam Jaya, all situated in the state of Selangor where the club are based.
According to her, their current home ground the Shah Alam Stadium, rented from the Shah Alam City Council, pose a few problems to the side. These include the fact that they cannot hold evening matches, as the stadium's lighting has been deemed insufficient for evening matches just weeks before the 2017 season kicked off.
The Red Ants have been playing at home in late afternoon ever since the season began in February.
"Playing in late afternoon is very different than at night because most of the players are used to playing at night," she told the national news agency.
The new stadium will be a lot smaller than the capacity of their current ground; which can seat 60,000 spectators.
"The new stadium will have a capacity of 6,000 to 7,000 spectators initially with an option to increase its seating capacity in the future," she said.
PKNS initially shared the Shah Alam Stadium with another Selangor-based Super League side Selangor, but the Red Giants were barred from using the stadium beginning this season, as a result of the internal dispute involving the board and the Selangor state Menteri Besar (chief minister) and former club president Azmin Ali.
Selangor now play at the Selayang Municipal Stadium, some 20 kilometers away from their former ground.
Should PKNS' new ground plan materialise, the Shah Alam Stadium may end up without a tenant for the first time ever, ever since it was opened in 1994.