Mesut Özil
'Ozil will be back at Madrid if he plays like this every week!' - Merson says German star is back to his best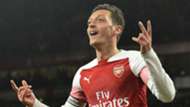 Arsenal playmaker Mesut Ozil is displaying the type of form which saw rise to stardom at Real Madrid, according to Paul Merson.
The 30-year-old's role under new boss Unai Emery was uncertain ahead of the new campaign amid speculation the pair had fallen out.
Ozil has been deployed in a number of positions but the former Germany international has three goals and an assist in his last four Premier League outings.
The highlight of Ozil's recent run of form came against Leicester City where a nonchalant finish drew Arsenal level before he set-up Pierre-Emerick Aubameyang to confirm a 3-1 success.
"He'll be going back to Real Madrid in about six months time if he could play like this every week," Merson told Sky Sports.
"That's how good he is.
"That's the frustrating thing, this is what he can do on any given day.
"That's just world class that pass, how many people see that?
"And then this, when have you ever seen him sprint like this?
"He's breaking to get there now, he sprints, and then to have the vision of what's going on, you can't talk highly enough.
"That's why he plays every week, because he is head and shoulders above all them players at Arsenal.
"Head and shoulders above them all."
After joining from Wolfsburg, Ozil emerged as one of the finest schemers in Europe during three years at Santiago Bernabeu.
In 159 appearances he scored 27 goals and contributed 81 assists, helping Los Blancos scoop the La Liga title, the Copa del Rey and the Spanish Super Cup during his tenure.
Those displays led to a £42.4 million (€42.4/$54.4m) move to The Emirates Stadium where he has won the FA Cup three times - his only major honours in north London.
Earlier this year he committed his long-term future to Arsenal by signing a new contract until 2021, worth a reported £350,000-a-week (€329k/$449k).