Transfers
No chance of signing genius Messi, says Man City sporting director Soriano
12:30 PM GMT+4
14/03/2018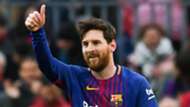 Manchester City will not be signing Barcelona superstar Lionel Messi, according to sporting director Ferran Soriano.
The Etihad club have flexed their financial muscles over the course of the last year to secure a number of high-profile players, notably twice breaking the transfer record for a defender by moving for Tottenham's Kyle Walker and Monaco's Benjamin Mendy.
But Messi will not be following them to Manchester, despite a strong relationship with manager Pep Guardiola.
"There is no chance of signing Messi," Soriano said.
"I know him and his family well and I know they are fine in Barcelona, which is where he needs to be.
"We will make our way without him, which will be more difficult because he is the best player in the history of football.
"He changed everything, he is a genius."
While Soriano praised the attacker, he also revealed that he is relishing working with Guardiola, revealing the secret to the Catalan boss' success.
"The main characteristic of Guardiola is his work rate," he said. "He works more than anyone and sometimes people think that he is a genius, but it is because he works a lot.
"He knows that football is very cruel and when you relax, you [can] concede four goals.
"Patience is essential and one way to understand it is to see that the teams that have won consistently are not the ones that change a coach every two months or every year.
"The key is long-term planning and managers must have the strength to make the decisions they think are right, even though fans ask for something else."
On Wednesday, Messi and his Barcelona team-mates are aiming to join Manchester City in the quarter-finals of the Champions League, having drawn 1-1 with Chelsea in their first-leg encounter at Stamford Bridge.