African All Stars
Nansel Selbol donates food and football kits for Charity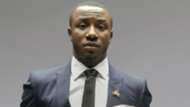 Swope Park Rangers' Nansel Selbol spent time doing charity work last weekend before joining with his American based outfit.
The former Golden Eaglets midfielder who has been in blistering form with an impressive record of 12 goals in 14 games visited the Remand Boys home in Lagos where he donated full football kits and food to the boys.
''I just want to have an impact on people's lives,'' said Selbol.
''I have been very fortunate to get to where I am and I hope to continue to grow so reaching out to people who may not be as fortunate goes a long way to giving them hope and some conviction that life will get better.
''We do what we can, when we can and as we get bigger and better, we do bigger and better things.''
The 19-year-old began his football career in Jos where he played for Pawas Football Academy before heading to City of David Football club in Lagos.
There , he made the Nigeria U17 provisional list to the 2013 Fifa U17 World Cup in the United Arab Emirates where the Golden Eaglets subdued Mexico in the final.