Premier League
Mustafi's 22-match unbeaten Arsenal run finally ends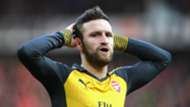 Shkodran Mustafi's 22-game unbeaten run with Arsenal came to an abrupt halt on Tuesday as the Gunners were beaten 2-1 at the Emirates Stadium by Watford.
Keep up to date with all the Deadline Day rumours!
The Germany international has proved a good luck charm for Arsene Wenger since his arrival from Valencia in the summer with the Gunners having been unbeaten with the 24-year-old in the side in all competitions.
Mustafi had gone 15 Premier League games unbeaten, more than any other top-flight player, before Tuesday's visit of Watford.
The defender's unbeaten outings included the Gunners' 3-0 win against Chelsea early in the season, the recent 5-0 mauling of Southampton in the FA Cup, and both of Arsenal's draws against Paris Saint-Germain in the Champions League.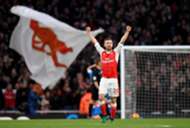 "I hope I can keep that statistic until the end of the season," Mustafi told Sky Sports News prior to the Watford defeat. "When I lose I sometimes just don't come home and stay at the hotel, because I don't want to listen to all that. But I'm happier for the other people than me that I haven't lost yet.
"When I go into a game I'm not thinking about losing, I'm there because I want to win. If I do something I do it properly, I'm a footballer because I want to improve and win games, that's why I'm sometimes difficult when I lose."
Arsenal fell 2-0 behind to Walter Mazzarri's Watford on Tuesday before Alex Iwobi pulled a goal back, though were unable to level the game and were subsequently written off in the Premier League title race as table-toppers Chelsea picked up a point at Liverpool.
Antonio Conte's side now sit nine points clear of Tottenham in second, who could only draw 0-0 at bottom-of-the-league Sunderland, with Arsenal level on points with their north London rivals.