World Cup
Move over Ramos, Uruguay hardman Godin is the best defender in the world
11:00 AM GMT+4
30/06/2018
Diego Maradona's physical and mental health have both become major causes for concern during this World Cup but the Argentine icon's take on Sergio Ramos showed that at least he hasn't lost all touch with reality.
"I do not want to enter into controversy but the other day [some journalists] told me that Sergio Ramos was 'a crack' (a great player) and I told them, 'No, the one who is a crack is Diego Godin'.
"For how he plays the ball, his strength, and how he controls the game from his position - that, yes, is a real crack."
He's not wrong either. There is no better defender than Godin in Russia, because there is no better defender in the world. 
The Uruguay international is everything you would want in a centre-half: intelligent, inspirational and hard as nails. Aerially, he is phenomenal. He is not especially tall - standing at 'just' 1.85 metres - but both his technique and his timing are impeccable. 
In terms of positioning, he is also peerless. Godin is not particularly pacey but, as he himself said before, "The game is not about running." Essentially, he nullifies target men because he is strong in the tackle and in the air, while he counters raw pace by putting himself in the right areas.
Indeed, he reads the game superbly. He usually knows exactly what attacking players are going to do, because he used to be one. It wasn't until he was 16 that the Enzo Francescoli fan was moved into defence by Club Atletico Cerro. It was a switch that changed the entire course of his career.
"I was always a forward or an attacking midfielder," he explained. "They threw me back there for one game and I stayed. I didn't like it at first. But then I got the fever. It helps to think like a striker, to anticipate what they're going to do."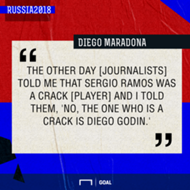 His origins also help to explain why he is so good on the ball, and why he is such a threat in the opposition box. 
He netted eight goals in all competitions for Atletico Madrid in their remarkable 2013-14 campaign, including the equaliser in the final-day draw at Barcelona that won Los Rojiblancos a first Liga title in 18 years. 
"It still gives me goosebumps [to think about it]," he has admitted. "I don't tire of talking about it. It's always the nicest recognition."
And recognition has often been inexplicably difficult to come by for Godin. He is not a superstar like Sergio Ramos – despite the fact that he manages to be both tougher and nicer than his Real rival.
Godin is old school, the kind of man that plays 80 minutes with a broken nose (see the Madrid derby in February, 2015) and doesn't feel the need to post a picture of it on social media (see Sergio Ramos after the same fixture in November of last year). He adheres to values from a bygone era.
He has the utmost respect for Lionel Messi ("Leo does what he wants on the pitch and when he wants!") but also famously argued that the reason why the Barcelona No.10 scores so freely in La Liga is because many of his fellow defenders in Spain are more interested in taking a selfie with the Argentine than tackling him.
For the most part, Godin is a quiet character off the field, but fiercely competitive on it, always 100 per cent focused, ready and willing to give absolutely everything to the cause.
"I've always competed like that, from birth," he said. "But I know how to flick the switch. I'm always in touch with my senses and in control of everything."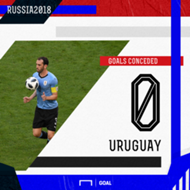 The same could certainly not be said of the petulant and reckless Ramos, who is one of only three defenders at the World Cup to have made an error leading to a goal.
Godin, meanwhile, has performed with his trademark controlled aggression in Russia, the key factor in Uruguay emerging from Group A with a 100 per cent record, both in terms of points and clean sheets. 
He may now be 32 but looks at the peak of his powers, a man with the requisite talent, fitness and professionalism to realise his dream of playing at the highest level until he's 40. 
Of course, Cristiano Ronaldo and Portugal now stand in his way of a place in the quarter-finals. Keeping the Real Madrid ace quiet is an almost impossible task but it is one that Godin has pulled off before.
They have met 26 times in Madrid derbies. Godin has kept Ronaldo scoreless on 15 occasions. It is also worth pointing out that half of the 18 goals that the prolific Portuguese has scored in those games came from either penalties (6) or free kicks (3). 
Then again, that only serves to underline that Godin and his Celeste team-mates will have to be on their very best behaviour at the Fisht Arena in Sochi. After all, Ronaldo hit a hat-trick at the very same venue a fortnight ago. Even if his side are struggling, the 33-year-old can conjure goals out of nothing. 
Still, he will hardly be looking forward to renewing acquaintances with the toughest – and best – defender in the world. As former Italy defender Daniele Adani once pointed out, getting the better of Godin is arguably the toughest test for any forward in modern football.
"If Diego Godin stands between you and the goal, then it's advisable to take an alternative path," he advised. "At least then you'd have a chance!"