World Cup
Mourinho: England can rule the world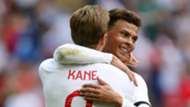 Manchester United manager Jose Mourinho believes England are capable of ending their long wait for international glory by winning the 2018 World Cup.
The Three Lions have been starved of success since 1966, with penalty shoot-outs and costly red cards proving to be their undoing down the years.
Expectations have eased as a result, with Gareth Southgate's current squad facing considerably less pressure than many of their predecessors.
Mourinho, though, believes that this could be the group to get England back on top of the global game, with Premier League and Champions League experience set to work in their favour.
The Portuguese told reporters on a side set to open their campaign against Tunisia on Monday: "They have a good group of young but experienced players.
"All of them play in the most competitive competition in the world, the Premier League, all of them playing for the best teams with experience of playing in the Champions League, which is a high level of football, obviously.
"Yes, I think they can do it."
England are not considered to be among the pre-tournament favourites, with that list headed by the likes of Brazil, Spain, France and Germany.
Mourinho believes that a European or South American heavyweight will ultimately reign supreme, but he is eager to point out that those with the best teams on paper may not get their hands on the most illustrious of prizes.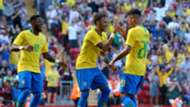 "They have good squads but good squads don't always make good teams," he added on the sides fancied to go far.
"Sometimes not such good squads, in theory, can make better teams…[but] I don't think the underdogs will make a big surprise.
"In the end, the top teams in South America and Europe are the ones that will be fighting for the title."
While keeping a close eye on events in Russia, as he prepares for punditry duty, Mourinho will also be piecing together his plans for 2018-19 at Old Trafford, with United having discovered their fixture list for the new Premier League season.