MLS
MLS Week 1: Scores and highlights as Atlanta United and Minnesota United lose league debuts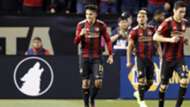 The (brief) 22-team era in MLS began this weekend with defeats of varying degrees for the league's two new expansion clubs, Atlanta United and Minnesota United.
Ahead of the meeting between the two sides next weekend in Minneapolis, the Loons had the honor of being selected to open the 2017 season away to the Portland Timbers before Atlanta faced the New York Red Bulls at home on Sunday.
Pulisic has big opportunity with Dortmund
Minnesota is regarded as a major outsider to make the playoffs this year but Atlanta has been decidedly more aggressive, bringing in former Barcelona and Argentina coach Gerardo Martino to manage a core of young South American talents.
Neither came out of their first match with a point, but both provided some evidence of how they may fare over the course of their inaugural seasons in MLS. Here's how they - and the rest of the league - got on.
---
PORTLAND TIMBERS 5-1 MINNESOTA UNITED
---
Goals: Olum 14, Valeri 47, 82 (pen), Adi 90, 90; Ramirez 79.
Minnesota will probably finish bottom of the Western Conference this season, but this was not as bad as the scoreline suggests. It's hard to see exactly where the goals are going to come from for Adrian Heath's team but at the back, the severity of this defeat was mostly down to their own errors.
The Timbers - who are a year removed from an MLS Cup, let's remember - took the lead through a scrappy set piece and added a third from the penalty spot thanks to Vadim Demidov's mindless shirt-pulling immediately after the visitors had set up an interesting last 10 minutes by pulling a goal back. Fanendo Adi put a gloss on the result for the Timbers by netting two on the break as Minnesota poured men forward.
"In the 82nd minute, it's still 2-1," Heath said. "To finish the game 5-1 was a little bit of harsh reflection of the evening."
---
COLUMBUS CREW 1-1 CHICAGO FIRE
---
Goals: Finlay 17; Accam 73.
The Fire will finally lift themselves off the foot of the standings if their credible second-half performance in this match is anything to go by. We don't know how good Columbus will be - like Portland, it reached the 2015 MLS Cup final only to fall out of the playoff picture last year - but a point on the road is rarely a bad result in MLS.
Dax McCarty demonstrated how important he will be by driving Chicago on after the break, and they got their reward when David Accam netted to save a point. New signing Nemanja Nikolic, of which much is expected up front, had a couple of chances good enough to have done so before then.
"Everyone is a link in the chain, and we got away from our system a little bit," Crew forward Justin Meram said. "They put a little bit of pressure on us, and we didn't have the desire to get on the ball and go forward."
---
LA GALAXY 1-2 FC DALLAS
---
Goals: Dos Santos 53 (pen); Urruti 47, Acosta 69.
FC Dallas set an MLS record by winning its sixth consecutive opening game of the season and looked worthy of its tag of the Western Conference - and perhaps even MLS Cup - favorite. Oscar Pareja's side has a bit of a head start thanks to the CONCACAF Champions League, which will have built up their match fitness, but this was no easy first game.
The Galaxy are undergoing a mini-rebuild, with Jack McBean perhaps not the most-established center forward they have ever fielded, but will still expect to make the playoffs. They were denied a point by Kellyn Acosta, who is certainly one to watch this season.
"Being a box-to-box player at a high level has a lot of requirements and a lot of stuff that needs to be accomplished," Pareja said. "Kellyn is understanding it more and then he's putting all of his talent and his physical and mental conditioning into that role."
---
REAL SALT LAKE 0-0 TORONTO FC
---
Goals: None.
The wind, pitch and altitude got the better of this game, but Real Salt Lake will be encouraged after picking up a solid point against one of MLS' best teams on paper.
Sebastian Giovinco had the best chance to win the match from the penalty spot, but was denied by Nick Rimando. TFC was not too disheartened, however, to come away with a point having probably done enough to win.
"We pitched another shutout which is something that is important to us and we missed some good chances, let's be clear," Reds coach Greg Vanney said. "A lot of positives to take away but we also know there are a lot of steps that we can take to improve and get better and make sure that, games like this, we win."
---
COLORADO RAPIDS 1-0 NEW ENGLAND REVOLUTION
---
Goals: Badji 52.
After reaching the Western Conference final last season, many have the Colorado Rapids pegged as the team that suffers a significant decline in 2017 due to their relative lack of talent at the top end of the pitch.
They kicked off the new season, however, doing exactly what they did in the last one: churning out 1-0 wins by making the most of the challenging altitude at their home stadium. Dominique Badji scrapped in the only goal from a corner and Zac MacMath was only really tested once by the Revolution.
"We're grinders, we find ways and we believe in ourselves and it's a great step in the direction we want to move in this year," Rapids coach Pablo Mastroeni said afterwards.
---
D.C. UNITED 0-0 SPORTING KC
---
Goals: None.
A combination of the good work of goalkeeper Tim Melia - who saved a penalty from Marcelo Sarvas after giving it away himself - and goal-line defending by Sporting Kansas City kept D.C. at bay in the capital.
But while Ben Olsen's men had a couple of golden opportunities to open the scoring, they struggled to consistently create chances and saw the visitors finish the game on top. Olsen may have work to do to recreate the superb run at the end of the 2016 season that put his side in the playoffs.
"It was a pretty gutsy performance from us and we defended more than we would've liked - or thought we would have [had to] against them," the coach said. "But for a defensive exercise, it was pretty impressive."
---
HOUSTON DYNAMO 2-1 SEATTLE SOUNDERS
---
Goals: Torres 20, Quioto 42; Dempsey 58.
The defending champions were thoroughly outplayed in the first half and found themselves two goals behind at the break to the team that finished last in the Western Conference last season. Clint Dempsey marked his competitive comeback by pulling one back, but the Sounders did not do enough to earn a share of the points.
With no disrespect to the Dynamo, who start the season superbly, Dempsey's successful return from an irregular heartbeat is bigger news for the Sounders than the result here could ever have been. He is a vital cog in their attack and will be crucial to their chances of returning to the MLS Cup final.
"I felt good," Dempsey said. "I'm still trying to get to my top level. I'm not there yet but I think if you watch preseason, it's been a steady progression. I look to be better hopefully next game."
---
SJ EARTHQUAKES 1-0 MONTREAL IMPACT
---
Goals: Godoy 17.
This might have been the most notable performance of the weekend: the unfancied Quakes were dominant against last season's losing Eastern Conference finalists and should have won by a clearer margin.
Montreal did not have a shot on target and whether or not San Jose can make any noise this year will depend on whether it can consistently capitalize on what should be a strong defense by scoring at the other end. The Earthquakes did just enough here to make a winning start.
"I like the roster we have put together," coach Dominic Kinnear said. "You can't necessarily base it off one game, but it does show us the potential."
---
ORLANDO CITY 1-0 NEW YORK CITY
---
Goals: Larin 15.
Orlando City now has a stadium for the rest of MLS to envy: the only thing left to do is to put a worthy team in it.  Orlando got off to an excellent start by beating Patrick Vieira's New York City FC despite losing Kaka to injury in the first half.
Cyle Larin opened his account for what should be another productive year and while it is hard to escape the feeling there is still some major roster reconstruction to be done, the Lions can be encouraged by a defensive performance that kept David Villa off the scoresheet.
The bad news? Kaka may be out for a while. "We don't have an MRI back there in the locker room, but it looks like this could be a pretty serious injury," coach Jason Kreis said. "I am very, very disappointed for him. He's worked extremely hard in the offseason and hard in the preseason."
---
ATLANTA UNITED 1-2 NEW YORK RED BULLS
---
Goals: Asad 25; Royer 76, Walkes (OG) 82.
Atlanta United was 15 minutes from victory in its MLS debut but the Eastern Conference champion New York Red Bulls are a tough nut to crack.
Tata Martino credited Jesse Marsch's team's street smarts with allowing them to come from behind to open their season with three points in Georgia, but that the hosts came so close against a proven outfit will encourage them. Like Minnesota, its lack of an obvious goal-scorer is the main concern.
"The final 15 minutes were a lesson on how to manage a game on the part of the Red Bulls," Martino said. "The final 15 minutes, soccer wasn't played. Between fouls and players going down, the 15 minutes passed without the ball being played."
---
VANCOUVER WHITECAPS 0-0 PHILADELPHIA UNION
---
Goals: None.
The weekend was closed out on something of an underwhelming note, with two teams who seem unlikely to be real contenders in their respective conferences this year playing out a goalless draw.
That said, a potential X-factor for the Whitecaps - and always an interesting player to watch - is 16-year-old Alphonso Davies, who was excellent again in their Champions League win over the Red Bulls earlier in the week. Union coach Jim Curtin is among those who already consider him to be Vancouver's most dangerous player.
"Basically our entire... not entire, but the vast majority of my weeks leading up to this was spent on how to shut down a 16-year-old kid," Curtin said. "That's a compliment. He's a heck of a player, to see him run in person, how effortless it is, how powerful he is, and then to have the feet that he does. I don't want to get carried away, but he does have a heck of a future."