MLS
MLS suspends Jermaine Jones and Dave Romney for Week 2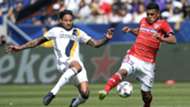 Major League Soccer's Disciplinary Committee has suspended Jermaine Jones and Dave Romney of the Los Angeles Galaxy for their Week 2 match against the Portland Timbers.
Jones was handed a suspension for a first-half tackle on Dallas forward Cristian Colman. The reckless tackle from behind at the time received a yellow card.
WATCH: Pulisic gets goal and assist
Romney's suspension was for diving. The defender successfully feigned contact in the box to draw a second-half penalty, which Giovani dos Santos converted. It temporarily brought the Galaxy level with Dallas, though Dallas would go on to win the game.
Both Jones and Romney each also received a $250 fine. Both decisions were also unanimous.