World Cup
Mexico players say round of 16 qualification was deserved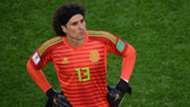 Mexico may have needed a bit of good fortune  to advance to the round of 16 for the seventh consecutive World Cup, but the players feel their achievement was deserved.
El Tri moved on despite a 3-0 loss to Sweden on Wednesday night at the Ekaterinburg Arena, with Korea's 2-0 win over Germany clearing the path for Mexico to take second place in the group thanks to earlier wins against Germany and Korea.
It was a poor showing from Mexico, but while goalkeeper Guillermo Ochoa said there's plenty for Mexico to improve, he also believes the previous results make passage something that Mexico had coming.
"Well, we're not going to forget about those first two games. It's thanks to those two wins we achieved that we are going to the next round," he said. "Before the game, we were the first national team to not be qualified with six points and achieving that means something. In these tournaments, every national team plays for its life. Today wasn't our best game, that's clear, but we're in the round of 16."
Mexico would've been the first-ever team in the history of the World Cup to earn six points and not pass out of the group stage. The team now returns to its Moscow base camp to prepare for a Monday match against Brazil.
Midfielder Miguel Layun said it's a place where El Tri can be proud to be after laying the groundwork for success by opening the tournament with a 1-0 win over Germany and following that up with a 2-1 triumph against Korea.
"For me, we qualified on our own merit. I don't have anything else to say because I don't see any other way of seeing it," Layun said. "We played two great games, we won six points and we're leaders of the group. It's true there was the chance we'd be out, but we did the work before and that allowed us the opportunity today to qualify even though we lost."
Mexico can no longer afford any defeats, with the knockout stages of the tournament now beginning.
El Tri will face old rival Brazil in the last 16 , with the South Americans having topped Group E, at 10 a.m. ET on Monday in Samara.