A-League
Melbourne Victory unfazed by Allianz Stadium pitch
Goal Australia Chief Editor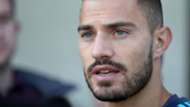 Melbourne Victory duo Leigh Broxham and James Troisi are unfazed about playing on a potentially dodgy pitch at Allianz Stadium when they face Sydney FC in the A-League grand final.
It was confirmed on Tuesday that Football Federation Australia's efforts to move a rugby union match scheduled at Allianz Stadium for Saturday night had failed, meaning the venue's notorious pitch will face a battering less than 24 hours before the grand final begins.
Waratahs won't move rugby match before A-League grand final
While Sydney are used to their home ground's surface, a bumpy pitch could be seen as a disadvantage for the visitors, who are used to much better conditions at AAMI Park.
But Broxham insisted Victory "won't even speak about it" ahead of the championship decider, while Troisi argued he has enough experience at Allianz Stadium to be prepared.
"It's been the same all season, so it doesn't really matter. It's the same for both teams," Troisi said on Wednesday.
"We will try and play the way we normally play. Obviously, it is going to be a bit more difficult but, like I said, from what I can remember, all our games there have been the same - even with the Socceroos, the pitch was exactly the same.
"So it doesn't really matter for me."
VIDEO: 'We will beat Sydney' - Muscat
Broxham added that the ball may spend less time on the grass than in a regular season fixture.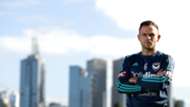 Leigh Broxham, Melbourne Victory
"It is what it is, so you're going to get a normal answer from me - they've got to play on it as well," he said.
"Yeah, it's not ideal but we're happy to go up there and I think the spectacle of the grand final, and how much pressure it is, the ball doesn't get down and play as much as a normal game."
Sydney's record-breakers have proven throughout the 2016-17 campaign that they can go harder and for longer than any other side in the A-League, with the Sky Blues reaching the grand final with a 3-0 win over Perth Glory last week.
Victory were 'outstanding' - Berisha
Victory produced a similarly intense performance - if less clinical - to beat Brisbane Roar 1-0 in the semi-finals, and Broxham backed his side to reach another level against the Sky Blues.
"Everyone knew [against Brisbane] that you're one game away from the [grand] final and it's the last time this group will be together, and that's a fact," the veteran said when asked where Victory's display came from after a lacklustre finish to the regular season.
"So I think the penny dropped for a few people, and it's a finals game and you always get that little bit of extra intensity, and I think it'll go up again for the grand final."