Betting
Manchester United vs Tottenham Betway Quiz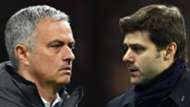 Manchester United welcome Tottenham to Old Trafford on Monday evening as they look to make amends for their dismal showing against Brighton last time out.
Jose Mourinho's side suffered a shock 3-2 defeat in Sussex last Sunday, with the Portuguese and his players coming under fire as a result. 
But United have the opportunity to erase the memory of their south coast humiliation as Mauricio Pochettino and his Spurs side travel north this weekend.
Test yourself ahead of the game with our United vs Tottenham quiz!
(function(b,o,n,u,s){var a,t;a=b.createElement(u);a.async=1;a.src=s;t=b.getElementsByTagName(u)[0];t.parentNode.insertBefore(a,t);o[n]=o[n]||[]}) (document,window,'_qual_async','script','//performgroupuk.qualifioapp.com/kit/qualp.2.min.js');_qual_async.push(['createIframe', 'qualifio_insert_place_506282', 'performgroupuk.qualifioapp.com', '20', '3B307F06-A462-ACE8-1B04-E6971AA8CA41', '100%', '1200', '', '', '', 'max-width:810px;margin:0 auto;']);