Manchester United
Manchester United confirm pre-season tour of United States
11:40 PM GMT+4
02/04/2018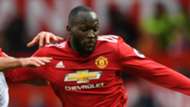 Manchester United have announced they will return to the United States for a pre-season tour for the second straight season and the fourth time in five years.
The Red Devils will play five games across the Atlantic in the summer of 2018, and have confirmed two of the matches — one contest against Club America of Liga MX and another against the San Jose Earthquakes of Major League Soccer.
The match against the Liga MX giants will take place at the University of Phoenix Stadium in Arizona on July 19.
Three days later, the Red Devils will trek to Levi Stadium in Santa Clara, California for the match against the Earthquakes. It is the same stadium where, in 2017, United squared off against Real Madrid.
America will also be in their pre-season at the time of their friendly, but the Earthquakes will be in the middle of the MLS campaign.
The remaining three fixtures, which will likely be part of the International Champions Cup, will be announced at a later date.
It has been reported one of those features will be a showdown with their longtime rivals Liverpool.
In the meantime the Old trafford outfit have the remainder of the Premier League season to worry about as they will face local rivals Manchester City at the Etihad Stadium on Saturday.