Barcelona
Malcom: Messi is not from this world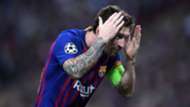 Lionel Messi is "not from this world", according to Barcelona team-mate Malcom, with the Argentine having made quite the impression on a summer arrival at Camp Nou.
The opportunity to work with a five-time Ballon d'Or winner proved too good to pass up for a Brazilian forward who joined the ranks in Catalunya during the last transfer window.
It had appeared at one stage as though Malcom's career path would lead him in a different direction, with Roma having agreed a deal with Bordeaux, but Barca hijacked that move and secured his signature in a €41 million swoop.
The 21-year-old is now furthering his development alongside some of the best in the business, with Messi considered to be the ultimate role model for an emerging talent.
"For me, he's not from this world," Malcom told Barcelona's official website of his skipper.
"And his simplicity and humility are incredible. He deserves all this praise".
Malcom has endured an injury-hit start to his time at Barca, restricting him to just five appearances, but he is feeling settled in new surroundings and remains convinced that he made the right move.
He added on his experiences to date: "It's all like a family. Everybody wants the best for everybody else.
"There are always jokes in the dressing room and in the Barça WhatsApp group that we have too. I'm with the Brazilians most but I get on with everyone.
"The adaptation's very good. I'm adapting and learning to speak a bit of Spanish. I have classes three times a week. But I am also learning a lot every day from being with my team-mates. When I speak Spanish 100 per cent, I'll start Catalan classes too".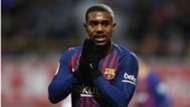 Malcom also believes that he retains the full support of manager Ernesto Valverde, with the South American confident that he can produce the form expected of him during a long 2018-19 campaign which will see Barca chasing down major honours on multiple fronts.
"I spoke with him and he told me what I needed to settle into the team and get better. So our relationship is very good," the exciting forward said of his working relationship with the man at the Blaugrana helm.
"It's a difficult season. A lot of games. But we're used to it and we're going to have a nice season and win a lot of trophies.
"Difficult games are for showing why you have come here, why you are in Barcelona."