UEFA Champions League
Lucky Madrid? Four finals in five years is not a fluke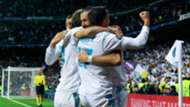 Real Madrid stand on the brink of a historic achievement. Beat Liverpool in Kiev on Saturday night and Los Blancos will win their third successive Champions League crown, and a fourth in five seasons. Yet some still believe they have been lucky.
The club's long wait for their 10th European Cup, La Decima, ended in Lisbon four years ago with victory against Atletico in extra time after a dramatic late leveller from Sergio Ramos deep into added time. They had been seconds away from defeat.
Two years on, against Atletico again, Los Blancos prevailed once more, this time on penalties. That after a route to the final that had seen Madrid face Roma, Wolfsburg and Manchester City, which was about an easy draw as they could have had, the first two of those teams not even qualifying for the competition the following season.
In the final itself, Ramos saw a goal allowed when it should have been given offside, while Antoine Griezmann missed a penalty for Atletico and in the shootout, the Rojiblancos opted to go second despite winning the toss. Once again, fortune favoured Real.
Last season, Zidane's side blew Juventus away in the final after an evenly disputed first half in Cardiff. In the quarter-finals, however, Bayern Munich believed decisions had gone against them as Arturo Vidal was sent off and Cristiano Ronaldo twice scored from offside positions.
This term, all three of Real's rivals in the knockout stages have complained about the officials. Unai Emery claimed the refereeing had helped Los Blancos when his Paris Saint-Germain side lost 3-1 at the Santiago Bernabeu , while Juventus were furious at the award of a last-minute penalty in Madrid after they had overturned a three-goal deficit from the first leg and Bayern believed they should have had three spot-kicks in the sides' semi-final tie.
In the meantime, Madrid have not played particularly well, either. There was an element of fortune in their second and their goals against PSG, while they needed that contentious penalty to prevail versus Juve and over the two legs in the semi-finals, the German side created 39 opportunities.
Yet here they are – in the final for the third year in a row and a fourth time in five seasons. Whether they win or lose on Saturday, it is an amazing achievement.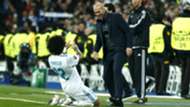 "Our squad always put its soul and heart into every competition," Ramos said on Tuesday at the media open day ahead of the trip to Kiev. "It would be another trophy, another Champions League. Really we could start to talk of a an era-defining team."
And asked whether Madrid had been lucky, he said: "If you keep working hard, it pays off. It can't be luck if we are there every year."
He is right. Winning teams need to have some luck on their side, anyway, while good fortune is usually the result of hard work. And four finals in five years is anything but a fluke for this Real Madrid side.