Manchester City
Laporte: I want to match 'world's best defender' Ramos
12:42 AM GMT+4
22/11/2018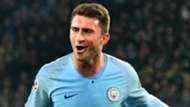 Manchester City defender Aymeric Laporte has said he wants to be the best defender in Europe, and has hailed Sergio Ramos as the best in the world. 
The 24-year-old has been one of the standout performers for City this season, establishing himself as one of Pep Guardiola's most trusted members of his squad. 
Less than a year after making a £57 million ($73m) move from Athletic Club, Laporte has many tipping him to go on to become one of Europe's top defenders. 
And the France under-21 international has also set his sights on becoming the best on the continent. 
"Do I want to be the best defender in Europe? Of course. Any defender will tell you that - who wouldn't want to be the best?" Laporte told reporters. 
As he ascends up the hierarchy of European defenders, Laporte has spotlighted one man he believes currently sits at the top of that list. 
"Sergio Ramos is probably the best centre-back in the world at the moment as we know we have to match his standards or better him if we are to be as good as he is," Laporte said. 
Laporte even credited the darker side of the 32-year-old's game, which has seen him embroiled in a variety of controversies, including his takedown of Mohamed Salah in last year's Champions League final that left the Liverpool star with a dislocated shoulder.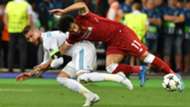 "To get to the top, you must have an edge to your game, like Ramos does," Laporte said. 
Though he's been in England less than a year, Laporte has asjusted seamlesslly to the Premier League game, and has stated that it shares many similarities with La Liga. 
"It's similar (to Spain) but more physical, but I am really enjoying that aspect of it," the defender told City's official programme. "I've enjoyed it from day one and I feel very much at home here.
"Every training session you take part in, you have to work very hard and train hard because there is no other way to get where you want to be - it's not a secret and not a magic formula - just hard work and application."
Laporte and City return to action on Saturday as they look to retain their lead at the top of the table with victory over West Ham at the London Stadium.