A-League
Jets-Victory rescheduled under FFA's heat policy
Goal Australia Chief Editor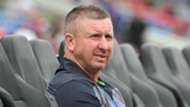 Newcastle Jets coach Mark Jones has backed Football Federation Australia's (FFA) decision to postpone Saturday's match against Melbourne Victory due to extreme heat.
FFA announced on Thursday that the A-League Round 19 fixture between the Jets and Victory will be moved to Monday evening to avoid temperatures in the high 30s on Saturday afternoon.
Based on the Wet Bulb Globe Temperature (WBGT) - the measurement central to FFA's heat policy - 28 degrees is the threshold where delay or postponement of games comes into consideration.
It is predicted that the WBGT will be over 34 degrees at kick-off at McDonald Jones Stadium on Saturday.
The ambient temperature will be approximately 36 degrees Celsius.
Speaking on Thursday, Jones supported FFA's decision and declared "player welfare is of utmost importance".
"It just means we get a little bit more time to prepare," Jones added.
"Obviously, a little bit inconvenient but these things happen. It's better than playing in 42-degree heat, obviously."
Playing on Monday means the Jets will only have three days to recover before they visit Adelaide United on February 17 but Jones was unfazed by that short turnaround.
"We've had to do that before and we'll manage that," he said.
FFA heat policy prompts W-League change
In a statement, Head of the A-League Greg O'Rourke declared both Newcastle and Victory had supported moving the match.
"Today's forecast leaves no doubt that the conditions on Saturday in Newcastle will be significantly above the thresholds we have in place under the FFA Heat Policy so we have made the decision to move the Newcastle v Melbourne Victory match to Monday night," he said.
"Taking into consideration the obvious player welfare concerns as well as the need to give players, teams and fans the best possible opportunity to plan for the match, moving the match to Monday night is the only decision we could make.
"We have spoken to both clubs who have welcomed the decision."
Jones is likely to welcome Steven Ugarkovic back to his starting line-up after a week's suspension, while the 50-year-old coach also indicated he will keep the same back four as Newcastle's long wait for a clean sheet continues.
The Jets haven't kept an opposition side scoreless since Round 2 when they thumped Brisbane Roar 4-0.