Mexico
Jesus Corona leaves Mexico national team with elbow injury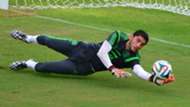 LAS VEGAS — Mexico will have just two goalkeepers on its roster for Wednesday's friendly against Iceland after an elbow injury forced Jesus Corona to leave the side.
The 36-year-old goalkeeper had irritation in his left elbow toward the end of Cruz Azul's 1-1 draw with Queretaro, according to a news release, and after being evaulated Tuesday national team doctors decided he should return to Mexico City to rehabilitate with Cruz Azul's medical staff.
Mexico team doctor Jose Luis Serrano said the player took two tough hits in Saturday's match and said the goalkeeper's elbow still needed time to fully recover.
"The elbow is still inflamed. We think it needs two or three more days to improve," Serrano said in Mexico's pre-match news conference.
The departure leaves Mexico with just two goalkeepers on the roster: Toluca's Alfredo Talavera and Monterrey's Hugo Gonzalez.