Gurpreet Singh
ISL 2017: Gurpreet Singh Sandhu - 'Only Bengaluru FC were ready to pay Stabaek to get me'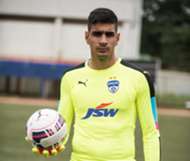 The talk of the town as far as Indian football is concerned right now is Gurpreet Singh Sandhu's move to Bengaluru FC. The groundbreaking move saw the Blues pay a transfer fee to Norway's Stabaek FC, something unprecedented. 
Right after completing a big money move to new Indian Super League (ISL) entrants Bengaluru FC, Goal caught up with goalkeeper Gurpreet Singh Sandhu for an exclusive chat.
With the Blues' fans not having to wait long to see Sandhu debut in the 2017 AFC Cup Inter-zonal semi-final against April 25 SC on 23rd August, here's what India's number one had to say:
---
Q: When did you decide to come back to India?
---
A: I knew that it was time to leave Stabaek. That's what I thought of before deciding to come back to India. The first time I had a serious thought was after finishing the Kyrgyzstan game (13 June 2017) and going back.  I had already played two (Norwegian) league games before playing against Nepal (6 June 2017). I had four or five consecutive games for the first time that year. When I went back I was told that I won't be picked for the next games.

I don't know what happened. I wish I would have got more time to settle in but the coach (Antoni Ordinas) didn't think alike and he thought of the other goalkeeper (Sayouba Mande) as the better option maybe because he was more experienced playing in Norway for about five-to-six years now. At the end of the day, I wanted game time. So that's when I targeted the summer transfer window because the window is open only for a month in Norway, from mid-July to mid-August.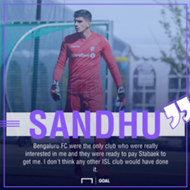 We had various options in Europe but I had to make sure to have a decent chance of getting play time where I might not play as the first goalkeeper but at least as a second goalkeeper from where I can fight for my position and at a better level than Norway. That was my target when I decided to leave. I didn't go to Norway to play for Stabaek forever. The things I wanted to achieve at the club, I did. I wanted to play in the first team, I wanted to play the league game. I had made a target for myself, when we qualify for the
Europa League
, that I have to earn my place for that game.
That was my personal target in 2016. So after that, it became easier for me to make a move. Being a goalkeeper, at this point, you want to play games and that's when I started to explore. There were some clubs whose level was lower than that of Norway but were professional enough and could offer a financially sound amount. Obviously financials are also an important part but not the most. At Stabaek, financially, it wasn't the most rewarding as well. Frankly, I have been struggling for about three years.
For me, money isn't everything. I would choose game time. There were clubs from Russia and Slovakia who were interested in me but I didn't want to go as a 'commercial' player or for a publicity stunt. On the other hand, the other clubs who were interested had restrictions over game time. 
---
Q: Did it take a lot of convincing to play in India and why Bengaluru FC?
---
A: Since the formation of Bengaluru FC, the level of professionalism has stood out at the club. For me, as a player, something that I like is that they (Bengaluru FC) have been owners and managers who have been in touch and congratulated me over the years, whenever I hit a small or a big milestone. 

One of the biggest reasons for choosing this club is that this will be the only club to play in international tournaments, playing in the AFC Cup right now. As a player, you would want to play in international tournaments at the right level of competitiveness. And if you get playing time at that kind of level, I had a good interest in that.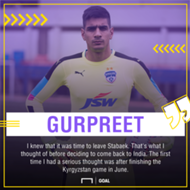 The approach that Bengaluru FC made was very good and they were the only club who were really interested from day one and they were ready to pay Stabaek to get me. I don't think any other ISL club would have done it, to be honest. 
There was no need for much convincing because I like the club and the fans and how it's run. I knew what I wanted. The situation was also such that I had to choose what I wanted to do - either stay at Stabaek and not play until December or go to Bengaluru and play more games.
With a Portuguese club that I was also in talks with, I was supposed to come to Bengaluru on loan and possibly join the team next year. But I wasn't sure about the Portuguese club as the transfer deadline was also approaching and they were also taking a lot of time. So we asked Bengaluru FC straight if they are willing to pay Stabaek's fee.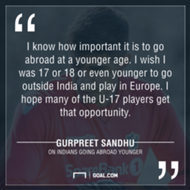 That more or less convinces a player, that if a club really wants you, they would do it. There were other clubs in ISL who I don't think would be ready to take me straight away with a transfer fee to Stabaek and they wanted me to join in January.
People right now don't know what I have been through and what the situation has been for me and how important it is for me to play. I don't think Bengaluru FC is a bad option. They are a very good club and a very big club. I would play the reserve league every week but I was too comfortable to play in it.
---
Q: You went to Stabaek at around 22 years. Should an Indian player who wants to go abroad go at a younger age?
---
A: Chhetri Bhai (Sunil Chhetri) and I know how important it is to go abroad at a younger age. I wish I was 17 or 18 or even younger to go outside India and play in Europe. I hope many of the U-17 players from the India U-17 (World Cup) squad get that opportunity.

You need to give time to reach their level. And when you are at their level, you need to go above that level to play a game, to show the coaches at the club that you are better than what is available. People think that it is very easy to go to the Premier League from Norway. It doesn't work like that.
---
Q:  Do you think you will want a European experience again in your career?
---
A:  Why not? I still think I can do that and if the right opportunity comes, I will do that. 
---
Q:  How did you feel about the Bengaluru transfer? Nobody quite knew the behind-the-scenes action.
---
A:  This kind of transfer hasn't been done before, where an Indian club has dealt with a foreign club regarding an Indian. So it was something new. We didn't know how to do this. So we had to learn and make sure we are doing it right. We couldn't take chances by doing it like Neymar's transfer where everybody knew one month ahead that he's going to PSG. 

With no disrespect to clubs in India, my first plan was not to find a club in India. Since playing in Europe I wanted to challenge myself and find something in Europe but I didn't want to stay in Europe for the wrong reasons. So I had to look for other options. I didn't want to stay in Europe for a publicity stunt or to be a third choice goalkeeper.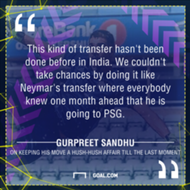 I think people need to think about this transfer in a positive way. This is the first time and I hope things like these happen in the future that Indian clubs deal with Indian clubs itself and transfer players. 
That's how it works in Europe and that's how it should be in India also because players are assets. Clubs also need to offer long-term contracts to players, like how (Sunil) Chhetri
Bhai
and Udanta (Singh) signed or even for that matter Sandesh (Jhingan) signed (with
Kerala Blasters
). That's how clubs are supposed to make money. That's how
Barcelona
made money.
---
Q: ​Did you consult anyone before this move? How many people knew?
---
A: ​In the initial stages, only me, Joe (Morrison) and Bengaluru FC were in the loop. The Portuguese club (Boavista FC) and Stabaek also knew obviously.