India U16
Indian Football: Nicolai Adam left Indian shores on Saturday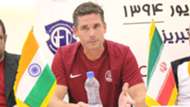 Former India Under-17 coach Nicolai Adam has left India for good in the wee hours of Saturday. The former Azerbaijan Under-19 coach was in Goa as he wanted his daughters to get done with the educational commitments.
Earlier this month, the All India Football Federation (AIFF) had formally announced that head coach of the Indian U-17 national team, Nicolai Adam stepped down from his post by mutual consent. 
Departing Nicolai Adam wishes U-17 team all the very best
The former Azerbaijan U-19 coach's position was put under threat after the players and several staff members of the team filed a written complaint with the AIFF, expressing displeasure with the coach's methods, and refused to function under him. It did not help that this development came after a disappointing show in the Granatkin memorial youth football championship in Russia last month, where the Indian colts finished a deplorable 16th. 
"I am grateful to AIFF for giving me the opportunity to serve as coach of the Indian U-17 National Team. I wish all the bright young talent the very best," were his final words.