Liga MX
In El Super Clasico, it's 'just win, baby' for America, Chivas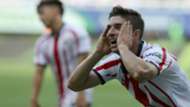 In the days leading up to Mexico's biggest rivalry match between America and Chivas, the latest iteration of which takes place Sunday, the familiar features of television coverage have filled the screens of thousands of fans. There are the great goals from Super Clasicos gone by, stats from all the most recent matches and the debate over who needs a result more this weekend.
The answer to the last question is both. Maybe that's weaseling out of an answer, but each team enters Sunday's game badly needing three points to reverse course. America sits in second place in the league but a midweek cup elimination by second-division FC Juarez has brought a lingering feeling of frustration into the public eye.
Rather than bring the pressure down on his players, America manager Miguel Herrera sent a thinly veiled jab at one of his players for missing a penalty, saying he shouldn't have relied on young Carlos Vargas to take a kick in the shootout. That's done little to bring down pressure on Herrera, who brought a title to Coapa in his first stint with the club but has failed to win silverware since returning last summer and has a seat that is beginning to heat up. America legends are speaking out, saying they expect big things this weekend.
"You have to win the Clasico forcefully. You can't lose a Clasico," Cuauhtemoc Blanco said this week. "America should be fighting for the title every tournament. I don't get involved in (Herrera's job status). That's a decision for the directors."
If you think the fans are calm about the weekend result - think again. Herrera had to leave the America facility through a back exit Thursday and damaged his car in the process. Mechanic-minded America fans have offered to replace it for free ... provided America gets three points against Chivas.
Meanwhile in Guadalajara, manager Jose Cardozo has a bit more breathing room with club officials after arriving this summer and doing a decent job mitigating what had become a full-on economic crisis. In addition to former coach Matias Almeyda, players like Rodolfo Pizarro and Oswaldo Alanis headed for the exits in a window that hardly jibed with the club's status as one of the country's biggest and most historic clubs.
Cardozo is, however, losing out on one of the things he had in his corner with the club's Copa MX elimination. His predecessor used the cup wisely, putting a considerable level of importance on the tournament that other clubs see as an afterthought. The Copa MX he won in the 2015 Apertura took pressure off him with the ability to point to a trophy victory. Cardozo won't have that luxury after this week's 3-1 defeat to Pumas. That it was the first win for Pumas in Guadalajara since 1982 only shines a flashing red light on the fact that the club's home form has been poor - though that isn't a Cardozo innovation.
Chivas goalkeeper Raul Gudino came up through the club's academy and said the rivalry starts from a young age and it doesn't matter which team is higher or lower in the table when the clubs meet because of the extra bit of spark meetings with America produce.
"Since I was a boy, we've had this rivalry and they're games in which it doesn't matter who's on top or below. It's a totally different feel and it's win or win. That's why you go onto the field. Yes, you have respect, like you do for every opponent, but always defending the shirt and the badge above all," Gudino said.
Who needs it more? Either team would be in a world of hurt should it fall short Sunday. The "Just win, baby!" motto of late Raiders owner Al Davis applies (and the comparisons might hit uncomfortable close for the men who control each team). That's all that matters this weekend. Get a victory over your rival, and nobody will remember the Copa WhateverItsCalled. Fall short, and there will be work to do for managers to get back on the good sides of their fan base, and more importantly the directors who decide if they continue collecting a paycheck.