Bayern München
Hummels backs 'orange cards' and crackdown on time wasting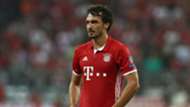 ---
EXCLUSIVE
---
Mats Hummels has stated his support for introducing 'orange cards' in football as well as cracking down on time wasting.
FIFA technical director Marco van Basten recently suggested changes to a number of the game's rules in a bid to improve the quality and entertainment value of matches.
They included the abolition of offsides and alterations to the structure of penalty shootouts as well as new disciplinary measures.
When asked about the proposals by Goal, Bayern Munich defender Hummels was most supportive of so-called orange cards - a middle ground between yellow and red cards that would see players sent off for a set period of time, rather than the rest of the match - and new measures to eliminate attempts to run down the clock.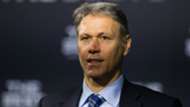 "Timed penalties [off the pitch as punishment] are an option, I think that's not a bad idea," Hummels said. "Of all the proposals, this could be the best to implement."
On time wasting, he added: "I think we need to start to punish time wasting more rigorously, for example with more additional time or earlier yellow cards. We had some opponents this year which started time wasting in the 15th minute.
"If referees were willing to show a yellow card after 20 minutes, the issue would have been settled and the player who did it could not do it again. But currently it is often the case that the refs wait until the 87th minute to show a card."
The German also admitted he would like to see referees given video assistance in order to reduce officiating errors.
"A video referee is useful for sure," Hummels said. "Some people may say wrong decisions belong in football, but if a final is decided in the 90th minute by a wrong decision, for me that is not a fair result. A mistake decided the game.
"If we talk about that, I would be delighted If I would know you can watch the replay afterwards. And if [there is not enough evidence] to overturn the decision which was made you just retain the original call. In my eyes that's quite simple."
Two ideas Hummels was less supportive of were a transformation of penalty shootouts and the abandonment of the offside rule.
Van Basten pondered the viability of introducing a style of shootout previously seen in MLS, where players have eight seconds to run at the goalkeeper from 25 yards out and shoot.
"The shootout [proposal] is an idea, but I don't know if that would make any difference in contrast to penalties and in a few years' time we would be thinking about something new again," Hummels opined.
When are the Champions League last-16 games?
"You could do that, but actually penalties already offer a lot of drama."
On getting rid of offsides, the centre-back said: "No, that makes no sense."