Mexico
How will Mexico line up against Iceland?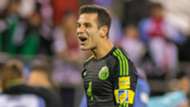 LAS VEGAS — Mexico's friendly with Iceland is all about experimentation. Both coaches have a team made up of players in leagues either out of season or, in Mexico's case, from teams with motivation to let players play for the national team despite Liga MX being in season.
It's always difficult to tell exactly what Juan Carlos Osorio is thinking about doing with his starting XI, and this game is no exception. In fact, a one-off game against an alternative European side makes things even more difficult to predict.
The manager also said that he would be experimenting with some players outside of the positions they normally play. It's likely that none of our three possibilities are extreme enough in this respect, as we've mostly stayed close to the spots we're used to seeing these players play on club level. Osorio is not too concerned about that.
Another question that continues to loom over Mexico is exactly where Rafa Marquez best fits. The 37-year-old is entering his third decade wearing his nation's colors. While that is a stunning and laudable mark, El Kaiser de Michoacan is a known quantity, while center backs Nestor Araujo and Oswaldo Alanis may be in more need of international experience. Marquez going into the midfield could push out Jesus Molina, a player with potential to go to Russia with Mexico's best players for the Confederations Cup this summer.
We will see wholesale changes during the match. There are 22 players left in camp after Jesus Corona's departure, and Osorio will do his best to make sure players weren't called in just for the sake of it. 
What we probably won't see? Any of these lineups exactly. With that enormous disclaimer made, here is how Mexico could line up against Iceland:
---
THE STRONGEST SIDE?
---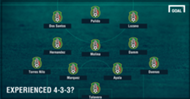 Osorio has called in a team with plenty of experience, and most of the squad has seen action under the manager before, despite his tenure only beginning in the latter portion of 2015. Iceland's manager is convinced that in addition to getting a look at some depth options for his top team, Osorio also is looking for a victory from Wednesday's friendly.
To that end, we might see the Colombian tactician put out a team that could conceivably start a World Cup qualification match. The back line is full of experience, with more than 200 caps between them. Rafa Marquez's 135 help, but three Tigres players around him all have at least a dozen.
Jesus Molina might be able to fight his way into Mexico's best XI, with a strong start to life in Monterrey only boosting his stock. Around him Elias Hernandez and Jurgen Damm get up and down the flanks quickly and efficiently.
Up top, Dos Santos and Lozano would switch sides often to take advantage of each player's capability to attack from either wing, while Alan Pulido can work with them or cause problems in the box.
---
THREE AT THE BACK?
---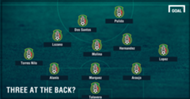 In Monday's training session, Osorio had one group playing with four defenders while the other worked with three at the back. El Tri has played with three at the back before, and perhaps Osorio would like to give players more time in a formation very few play in at the cub level. This again brings us back to the Rafa Marquez question. He's been at the center of a three-man back line for Mexico in Osorio's tenure, most notably in Mexico's 3-1 win over Uruguay to open the 2016 Copa America Centenario. Osorio brought that game up in his news conference Tuesday, saying many in the press saw it as Mexico's best game since his arrival.
In that contest, Santos Laguna center back Nestor Araujo was a surprise starter next to Marquez and repaid Orosio's faith with an excellent performance. We could see this lineup again with Oswaldo Alanis playing the role Hector Moreno did in that triumph.
Alongside the three center backs, Raul Lopez's attacking capabilities might make him more interesting as a wingback than Jesus Duenas, and Osorio said during Tuesday's news conference that he'd like to see how some players perform as wingbacks — though that statement could equally apply to Tigres' multitalented man.
Up top, seeing how Pulido combines with Dos Santos or how Lozano finds ways to enter the attack playing on the same side as the LA Galaxy attacker might be fascinating, as would seeing Leon's Elias Hernandez work with Lopez on the right.
---
PLAYING THE KIDS?
---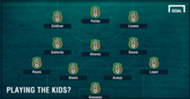 Then there's this. For the record, this is highly improbable, but Mexico could look like this in the second half of Wednesday's contest. This would showcase most of the players Osorio has taken a flier on despite not being national team regulars, including Atlas left back Luis "Ricky" Reyes, Chivas forward/winger Angel Zaldivar and Pumas midfielder Jesus Gallardo — who also could get a run-out at the left back position or as a left wingback.