Mexico
Hector Moreno set to face Costa Rica after injury scare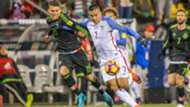 After being held out of training as a precaution Tuesday, Mexico center back Hector Moreno returned to training Wednesday.
The defender should be able to start and see out Friday's World Cup qualification match against Costa Rica, saying after Wednesday's training that he feels "perfect." With Mexico already facing a number of players out because of injury, including Andres Guardado, and having Diego Reyes suspended because of yellow card accumulation, losing Moreno would've been a hard blow for El Tri.
Osorio endorses four El Tri players to go abroad
Moreno said that Mexico is taking nothing for granted against Costa Rica or in any of the matches that follow with a trip to face Trinidad and Tobago on Tuesday and June qualifiers against Honduras and the United States also approaching.
"The truth is all our opponents have grown from before," Moreno told Televisa. "Costa Rica, the United States, Honduras, they've got players who are playing in Europe, in MLS, here in Mexico. They've grown, they've matured and are strong national teams, as is Mexico."
With a busy schedule ahead that will include friendly matches, the two June qualifiers and then a trip to Russia for the Confederations Cup, Moreno would love to make the job easier by wrapping up qualification for a return trip to Russia in 2018 as quickly as possible - something the team is well-positioned to do after opening with a win and a draw on the road.
Mexico to face Ghana in Houston friendly
"Obviously we're happy. We're going to try to win the four," Moreno said. "It would be brilliant, we'd be practically qualified and you'd go to the Confederations with a feeling of satisfaction.
"But right now we're thinking of the next games."
Those come Friday against Costa Rica, with Mexico hosting a match for the first time in this cycle before going to Port of Spain for next week's game against the Soca Warriors.