Chelsea
Hazard: Champions League failure could be good for Chelsea
11:25 AM GMT+4
10/04/2018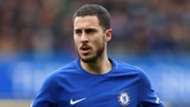 Eden Hazard is trying to find positives in Chelsea's troubled season and explain how missing out on the Champions League may be no bad thing.
The Blues were crowned Premier League champions in 2016-17, with domestic dominance secured with the minimum of fuss.
A forgettable defence of that crown has been staged by Antonio Conte's side, with inconsistency blighting the 2017-18 campaign for the reigning champions.
They are now in danger of finishing outside the top four – with a 10-point gap to be bridged in just six games – but Hazard believes Chelsea have shown in the past that an absence from elite European competition can actually play into their hands.
The Belgium international playmaker told the club's official website: "I hope, for the Chelsea fans and ourselves, that we can achieve something.
"We still have the FA Cup to play for so we need to bring this trophy to Stamford Bridge at the end of the season.
"When you play for Chelsea you want to be in the Champions League every year but last year we didn't play in it and we won the title, so sometimes a bad thing can create a good thing.
"But we will play [to try to qualify] for the Champions League, for sure.
"We need to work together. There are six games left to play in the league and we will try everything to be in the top four at the end of the season."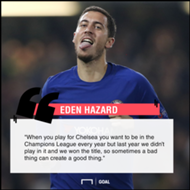 Hazard concedes that the current campaign has been tough for Chelsea, with there a feeling inside Stamford Bridge that good fortune has deserted them.
For the Blues, there have been too many occasions on which they have dominated games but failed to come away with the rewards that their endeavours deserve.
"This season a lot of the games have been the same," added Hazard.
"I remember away at Manchester United, we were in control of the game and in the end we lost. 
"Last week against Tottenham, we were in control in the first half and then we lost the game. So this season isn't going well. We need to work together."
Chelsea will be back in action on Saturday against struggling Southampton, with there another outing against the Saints to come on April 22 in the semi-finals of the FA Cup.