Joe Hart
Man City outcast Hart will find a top club, says Given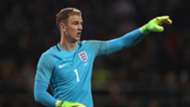 Shay Given has backed former Manchester City team-mate Joe Hart to find a Premier League side for next season.
Gundogan backs Sane for big season
Hart has been left out in the cold by current manager Pep Guardiola, who sent him on loan to Torino last summer. The England No.1's spell in Italy was somewhat problematic, however, and he was widely criticised for conceding twice in his nation's 2-2 draw against Scotland on Saturday.
Given, though, believes the 30-year-old will receive a significant offer, despite Hart claiming he has yet to receive any serious interest. 
"I would be very surprised if Joe is not in the Premier League next season. Probably not at Man City of course with the new signing they have got but another top club will be looking at Joe definitely," the Irishman told talkSPORT.
Veteran shot-stopper Given, meanwhile, feels that criticism of Hart's performance at the weekend was misguided.
"They were two fantastic free-kicks from Leigh Griffiths," he said.
"The media and people on social media are on his case and I don't see it. Your job as a goalkeeper is to protect your side of the goal and the wall protects the other side. Joe has protected his own side and it has gone the other side, over the wall."