Joe Hart
Hart: Pep snub makes no difference to my life
11:37 AM GMT+4
02/10/2017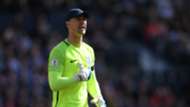 Joe Hart insists he does not care about Pep Guardiola's reasons for axing him from his Manchester City team, as "it makes no difference to my life".
The England international played just once under Guardiola, in a Champions League encounter with Steaua Bucharest, with the Catalan deciding that he did not want Hart as his No.1.
England 10/11 for win to nil v Slovenia
Hart subsequently moved on loan to Torino, but the goalkeeper – who had previously been dropped at City by Mark Hughes – did not feel he was given a chance to prove himself.
"When I was 22, when Hughes did it, it made me a lot angrier than it did this time. I didn't know how to deal with or how to cope with it," he is quoted as saying by The Offside Rule Exclusives.
"So when this happened I was all up for a fight, and a fair fight is good for me and if I lose I will shake hands with my opposition, but I realised this wasn't going to be my opportunity for a fair fight so I looked elsewhere.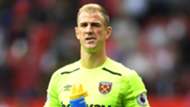 "There was no point getting upset or irate because there was only ever going to be one winner and that was going to be the guy who Manchester City had put in charge."
Hart spent a year in Italy, but did not do enough to earn a permanent move and is now on loan at West Ham United.
The Hammers do not have an option to buy Hart at the end of his loan, but the 30-year-old does not appear to have any desire to return to City.
"He has a lot of power and City fought like hell to get him as their manager and he had decisions to make and he made that with me," he added.
"That's life and that's football. We all want a fair chance at everything but that's not how it works. I'm not going to second guess why he wanted to get rid of me.
"The only thing that came of it is that I had to leave. Why he did it or what his intentions were I don't really care because it makes no difference to my life."