Manchester City
Guardiola hits back: I cannot say Man City played badly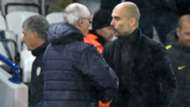 Pep Guardiola refused to admit that Manchester City "played badly" in their 4-2 defeat at Leicester City but does admit he needs to stop them conceding so many goals.
Guardiola trying to play like Bayern with the wrong players
City found themselves 2-0 down to the defending champions, who had been languishing near the bottom of the table before kick-off, within the opening five minutes.
Guardiola's side were 4-0 down by the time Aleksandar Kolarov and Nolito pulled back two late goals that did little to hide City's glaring issues at the back.
The Blues have kept just three clean sheets in 22 games in the Premier League and Champions League proper, and just one since September 17.
But in a sometimes tense press conference, in which Guardiola even insisted he is not interested in the art of tackling, the City boss confounded journalists by praising his side's reaction to conceding those early goals at the King Power Stadium.
"No, I'm not disappointed with my players," he said. "Somebody will tell them but they know, they are professionals, they are old enough to know what happened and hopefully in the future we can improve."
Guardiola admits City's failure to deal with Leicester's approach may have been his "mistake", but while he says he needs to put a stop to their defensive flakiness, he believes the methods he has used to great success at Barcelona and Bayern Munich will be sufficient.
"I have to improve to solve that, yeah, that's true. I want to play the football of how I feel... because the basics of the way we play during the season - except a few times - it was quite good.
"So I cannot say today we played bad, that we didn't play with the intention to create, but after four minutes at 2-0 [down], after the third goal, how we played the second half, we tried, but of course we concede a lot of goals.
'Guardiola too much of a tactical wizard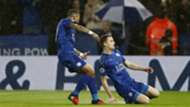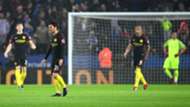 "I try, and I realise [I have to do] that, to control the games. We concede few goals in my career as a coach, and here I cannot do that, and I have to analyse why."
He added: "In the Premier League there are different things but the pitch is the same, 11 against 11, and I have to control the little differences between other leagues, but the idea I think is good, and will be good."
City have spent well over £100 million on three central defenders in the past three summer transfer windows, but Eliaquim Mangala, who cost £42 million in 2014, is out on loan at Valencia with little chance of returning, while Nicolas Otamendi, a £32m signing, faces an uncertain future at the Etihad Stadium.
Guardiola moved to bolster his backline by spending £47m on John Stones ahead of the current campaign, and the City boss has insisted on several occasions this season that he is more than happy with the players at his disposal, even though the England man was the only defender to arrive at the club.
And after the defeat at Leicester he refuted the notion that he has been let down by his employers' previous transfer dealings.
"No. I didn't say that. No, no, no. I don't complain about what the club did in the past, and what the club did was good. No, no, no. I am a guy who never complains about what happened in the past, and if I didn't like the situation I wouldn't have come here. I came here because it was a challenge for me and I want to do it."
It was put to Guardiola at the end of his press conference that City did not win a single tackle in the opening 30 minutes of the match - by which point they were 3-0 down.
Humbled Hart a worthy adversary for Buffon in Turin derby
But he hit back by insisting he would rather focus on keeping the ball and playing well than working on that side of the game.
"It's typical here in England, they use a lot about the tackles," he added. "I'm not a coach for tackles. So I don't train tackles. What I want is to try to play good, score goals, arrive more.
"What's tackles? Yeah, you have to win the duels, yeah, that's true, but normally when you play good you win a lot of tackles, but after four minutes at 2-0 [down] in the mind of the players they say, 'Wow, what happened?', it's not easy for them.
"Yeah it's another aspect of the football but we're not going to win or lose because of the tackles."