MLS
Goal predicts the MLS conference finals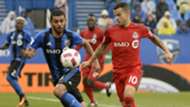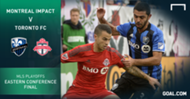 TORONTO FC vs. MONTREAL IMPACT (aggregate predictions)
Ives Galarcep: Toronto 3-1 Montreal
The organized Montreal defense could keep things close in the first leg but containing Sebastian Giovinco and Jozy Altidore over two legs will be too much. Steven Beitashour will be key in containing Ignacio Piatti as the TFC defense keeps Montreal in check.
Jon Arnold: Toronto 3-2 Montreal
The Impact's recent rise is impressive, but it's going to be tough for any team to deal with Giovinco, Altidore, Osorio and Co. the way they've been working together in the recent past.
Thomas Floyd: Toronto 3-2 Montreal
Given two weeks to prepare, Toronto coach Greg Vanney should be able to make sure his potentially vulnerable 3-5-2 compensates for Ignacio Piatti's considerable threat out wide. Ultimately, the midfield trio of Michael Bradley, Armando Cooper and Jonathan Osorio will get the better of Montreal's aging group.
Allen Ramsey: Toronto 2-1 Montreal.
Toronto FC gets it done, but this feels like it's going to be a close series that goes down to the wire. In the end, TFC just had a bit too much for the Impact to deal with. 
Rudi Schuller: Toronto 4-2 Montreal
These teams match up quite well, but TFC's overall depth and tactical flexibility gives it an advantage that should be enough to claim the Eastern Conference berth in the MLS Cup final.
Ben Valentine: Toronto 4-3 Montreal
With Sebastian Giovinco and Jozy Altidore in form, the Toronto attack is hard to stop. But the Impact come in after slowing down MVP candidates Sacha Kljestan and Bradley Wright-Phillips enough to eliminate the Red Bulls, and will frustrate TFC at times as they sit deep and look to counter. TFC's stars, however, will have just enough firepower to get the job done. 
Seth Vertelney: Toronto 2-3 Montreal
I'm done picking against Montreal in this postseason. The Impact's counterattack can really exploit Toronto FC's 3-5-2 formation, as Ignacio Piatti can take advantage of Toronto's wing backs getting too far up the field. Montreal will also have the advantage of potentially building up a lead in the first leg with more than 50,000 fans expected at Olympic Stadium.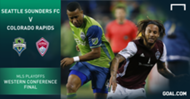 COLORADO RAPIDS vs. SEATTLE SOUNDERS (aggregate predictions)
Ives Galarcep: Colorado 1-2 Seattle
This figures to be a low-scoring series, with the Sounders having the edge thanks to Nicolas Lodeiro. Shkelzen Gashi's health will be key to the Rapids having a real chance of generating goals, but with him hampered, Colorado will find it tough breaking through the Seattle defense.
Jon Arnold: Colorado 0-2 Seattle
The Sounders keep riding their hot streak, and with a healthy Roman Torres back in the fold it will be difficult for the Rapids' already-hampered attack — that may be without Shkelzen Gashi and Marco Pappa — to find any joy.
Thomas Floyd: Colorado 1-2 Seattle
Expect another tight series — that's the Colorado way and Pablo Mastroeni won't be straying from it now. The Sounders, however, have the firepower to penetrate that imposing Rapids back line, and injuries to Tim Howard and Shkelzen Gashi do loom large.
Allen Ramsey: Colorado 1-3 Seattle
There's just too much for Colorado to overcome, with the Rapids dealing with fitness and injury concerns to among some of their biggest stars— and Seattle is on a roll.
Rudi Schuller: Colorado 1-2 Seattle
The Rapids will keep it close — it's what they do — but the loss of Tim Howard, coupled with Shkelzen Gashi not being 100 percent, opens a window of opportunity that the surging Sounders can step through.
Ben Valentine: Colorado 2-3 Seattle
While a lot of focus will be on Tim Howard's absence for the Rapids, Zac MacMath was solid before his arrival. But the much bigger loss for the Rapids is Shkelzen Gashi, who is instrumental to their attack. The Rapids may struggle to score as a result, especially in the first leg in Seattle, putting them in a dangerous position in the second leg, as away goals could prove the difference. 
Seth Vertelney: Colorado 1-3 Seattle
Tim Howard isn't the absence that hurts Colorado — it's Shkelzen Gashi's potential loss which could prove much more costly, because the Rapids struggle to score even with their Albanian star on the field. Colorado's back line is tough to breach, but it might not take more than one or two Seattle goals to win this series.