World Cup
Germany in a world of hurt after Mexico defeat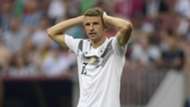 And so, Germany follow Spain in suffering defeat in their first match back as World Cup champions. It's their first time losing since Spain beat them in the semi-final en route to the trophy in 2010.
Spain's loss to a tactically astute Netherlands in 2014 was the first of many cuts which brought an end to their period of dominance. It was wild and unexpected. This one, too, might have alarm bells ringing in Germany.
Joachim Low has never appeared to put a lot of importance into friendly results but his team only won one of their six games heading into the World Cup.
While plenty will argue that those matches should in effect be tune-ups or auditions for the squad proper, Germany couldn't put away England, Spain, France, Brazil or modest Austria in a run of five winless games.
Their only victory in the run-up to Russia 2018 came in unconvincing fashion against Saudi Arabia when media at home worried whether or not the cup holders were undercooked ahead of the tournament.
Those friendlies might have seen try-outs for many Bundesliga – and Premier League-based contenders – but it appeared all along that Low had an idea of his best team and only injury would deter him from his path.
Any fan could have made an educated guess at the XI to take on Mexico with only Marvin Plattenhardt at left-back providing a somewhat moderate surprise. It meant that Juan Carlos Osorio had a pretty good idea of what he would be dealing with at the Luzhniki on matchday one. And his preparation worked to perfection.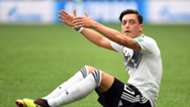 It's hard to point out one particular area where it went wrong for Germany but here should be plenty in the line-up – as well as Low in the dugout – who might consider the value of their contributions.
Joshua Kimmich was identified by Low as Germany's most important tactical weapon and he got forward plenty on the right. But the problems started when Mexico won the ball back.
Germany were altogether too slow to recover with Kimmich out of his right-back station. Mats Hummels and Jerome Boateng are not quick enough in getting over to cover and the laxity with which Toni Kroos and Sami Khedira carried out their defensive work should give cause for concern.
There was too much space for Mexico to work in. Their goal was a great illustration of the game plan. They won the ball high up the field; a few passes later, Hirving Lozano had turned Mesut Ozil inside out and given el Tri their lead .
The space between the centre backs and midfield was occupied gladly by Carlos Vela, who had a great game. Those two delivered a warning shot right in the open stages when they combined for a chance that could have brought a goal.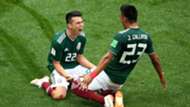 And at times Mexico were content to invite their opponents on to them and asked questions of their creative capacities. Kroos and Ozil are integral to that process but malfunctioned in that regard.
It denied Timo Werner the chances he needs to stretch his legs and stretch defences. Despite an injury crisis in the backline before the tournament, Osorio's men dealt quite competently with the German threat and limited them to half chances at best.
This game will have the twin effect of giving Mexico the self-belief they need to go far in the tournament and of having Low consider his choices for next time out.
The Mexican fans outnumbered and out-sang their German counterparts who must have thought they were going to show up and ease their way to victory.
By the time the Germans realised the game was slipping away from them – and Marco Reus, Mario Gomez and Julian Brandt summoned from the bench – it was too late to gather any real momentum.
Just like for Spain four years ago, there are problems in this championship team and Mexico exploited them. Germany not so invincible after all.