eSports
FIFA eWorld Cup Champion MSDossary wins Console Player of the Year award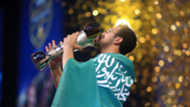 FIFA eWorld Cup Champion Mossad 'MSDossary' Aldossary has added yet another trophy to collection after being voted the "Console Player of the Year" at the Esports Industry Awards.
This marks the second year in a row that the award has gone to a FIFA player after FIFA Interactive World Cup Champion Spencer 'Gorilla' Ealing collected the award last year.
Saudi Arabian MSDossary defeated tough competition to collect the award with Team SoloMid's Smash Bros Melee player William 'Leffen' Peter Hjelte, EVO 2018 Street Fighter V champion Benjamin 'Problem X' Simon and multi fighting game champion Dominique 'SonicFox' McLean amongst the nominees.
MSDossary was also nominated for Console Rookie of the Year alongside fellow FIFA pro Donovan 'Tekkz' Hunt. Tekkz took the FIFA world by storm after winning the FUT Champions Cup in Barcelona at just 17 years of age before becoming the first FIFA player of football YouTubers, The F2 Freestylers.
The winner of the Esports Console Player of the Year in association with @scufgaming @Msdossary7 #ESPORTSAWARDS pic.twitter.com/Q47uA5AsBC
— Esports Awards (@esportsawards) November 12, 2018
While Tekkz wasn't able to pick up and an award, MSDossary narrowly missed out on his second award of the night as he came runner-up for the rookie award which was instead given to 100 Thieves' Call of Duty player Kenny 'Kenny' Williams took home the award.
Finally representing FIFA at the awards were FIFA esport commentators Brandon Smith and Richard Buckley who were both nominated for an award and presented another.
A Night To Remember // @esportsawards 2018 🎮 pic.twitter.com/92YW7ZKBEe
— Brandon Smith 🇬🇧 (@BSmith_Esports) November 14, 2018
The pair presented the "Stream Platform of the Year" and were nominated for "Esports Broadcaster of the Year."
Some of the biggest names in esports were nominated alongside Smith and Buckley with the likes of League of Legends' Eefje 'Sjokz' Depoortere, Trevor 'Quickshot' Henry, Laure Valee and Martin 'Deficio' Lynge as well as Overwatch League's Christopher 'MonteCristo' Mykles, Soe Gschwind Penski, Mitch 'Uber' Leslie and Alex 'Goldenboy' Mendez.
However, Call of Duty pipped FIFA again as the award was given to Clint 'Maven' Evans. Still after only being esports for 18 months, it was still a huge achievement for the duo to be nominated and Smith said it was an honour to be there:
"It was a real pleasure to be nominated for the broadcaster of the year award. To be surrounded by so many established names, it was an evening I won't forget any time soon!
Buckley added: "It was a great achievement to be nominated and to be in such illustrious company there was huge for us. Also to be nominated as a duo is a big statement for the both of us personally."