World Cup
FIFA approves use of VAR for 2018 World Cup
12:37 AM GMT+4
17/03/2018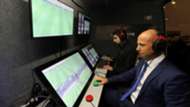 FIFA has approved the use of video assistant referees for the first time at the World Cup during a meeting of the organisation's council in Bogata.
Earlier this week, VAR won official approval from the International Football Association Board [IFAB], football's rule-making body, at its annual general meeting in Zurich.
The FIFA Council convened on Friday in Colombia, where president Gianni Infantino confirmed the decision had been taken to use the technology.
"We also spoke about football, we're going to have our first World Cup in 2018 with [the] video assistant refereeing system," Infantino said during a news conference.
"This has been adopted and approved and obviously we are extremely happy with that decision."
Video review is already in use in Germany's Bundesliga, Italy's Serie A, Major League Soccer in the United States and Canada, and Australia's A-League, while it has been trialled in the FA Cup and Carabao Cup in English football.
FIFA also used the system at last year's Confederations Cup and Club World Cup.
The technology is designed to help referees with four key decisions: goals, penalties, straight red cards and cases of mistaken identity.
There has been criticism of video review, however, over the amount of time taken for referrals during matches, as well as complaints over confusion caused for coaches and fans.
Infantino has previously spoken of his desire to see VAR used at the World Cup, although predecessor Sepp Blatter posted a tweet to express his disapproval.
La Liga has already confirmed that video review will be used in Spain next season, but UEFA said it will not roll out the system yet in the Champions League.