FIFA 19
FIFA 19 Review: The champion of football games gets even better
10:45 AM GMT+4
28/09/2018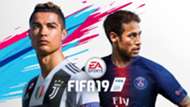 There is no bigger prize in club football than winning the Champions League, no greater achievement for a player than being crowned European Cup winners with their team. Having added the official licenses for Europe's elite club competitions this year, FIFA 19 makes that dream a reality for gamers around the world, from the instant you load up the game and are greeted with the famous Champions League anthem.
The first time you turn on FIFA 19, you are immediately immersed in the Champions League, taking the field as Cristiano Ronaldo and Juventus to attempt to defeat Paris Saint-Germain in the 2018-19 final at the brand new Wanda Metropolitano. This is all new for FIFA 19 - a new stadium, a new club for cover star CR7, a new commentary team and a new competition for the world's most popular football game.
The opening game of FIFA 19 offers a taster of what to expect from this year's version, with Derek Rae and Lee Dixon providing commentary for the fully licensed Champions League, as well as the Europa League and UEFA Super Cup. These three tournaments are perfectly replicated in the game down to the broadcast presentation and the trophy presentation. Lifting the trophy with Ronaldo in the opening sequence will leave you wanting to experience the complete tournament, from navigating the group stages to praying for an easy draw in the knockout stages before travelling to Madrid for the winner-takes-all end of season spectacle.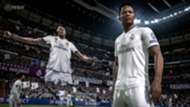 The Champions League is also a key part of the Journey, which returns after two successful seasons in FIFA 17 and FIFA 18, and provides much greater depth and variety in its storylines, allowing you to take control of Alex Hunter, Danny Williams and Kim Hunter in The Journey: Champions. Players who have completed the two previous chapters can pick up where they left off, with decisions and performances from previous saves carried over to FIFA 19. But newcomers are welcome too, as the story provides a quick catch-up before the new chapter begins with Alex deciding which European giant he wants to join after his successful Major League Soccer spell, Danny moving to a Premier League club of his choice, and Kim training alongside Alex Morgan as she looks to break into the USWNT.
The Journey: Champions begins with a classic match featuring Alex's grandfather Jim Hunter, complete with commentary from the legendary John Motson, but more importantly starts by introducing 'Timed Finishing', one of the new gameplay improvements in FIFA 19. Along with 'Active Touch' and 'Dynamic Tactics', these will change how you play every game in FIFA 19 in every game mode.
Timed Finishing requires a bit of patience and a lot of practice, but provides a much more realistic approach to shooting. Time your finish correctly with a second tap of the shoot button just as you strike the ball and you'll score goals Puskas would be proud of. Time it poorly and you'll blaze the ball over the bar or worse, into the ground. There's a bit of a learning curve, but is hugely rewarding once the skill is mastered. The training drills are essential this year to get to grips with it.
Active Touch is much easier to master. You'll find yourself trapping balls and controlling passes almost automatically after a few games in order to keep possession or beat defenders. Dynamic Tactics provides more control over how your team plays as a unit and once set up, is simple to activate in game.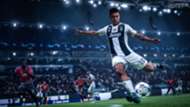 The in-game tactical tweaks are also easier to track thanks to minor graphical improvements which show which D-Pad commands are active, while the pitch radar has gotten a small change to make it far easier to differentiate which team is which - a godsend when playing with kits of similar colours.
Thanks to the gameplay improvements, FIFA 19 is a slower, more realistic football experience. Pace is not as important as it once was and matches feel more lifelike as a result. But if FIFA 19 ever feels too realistic, you can always try the new No Rules mode, which does away with fouls, offsides and provides a free-for-all end-to-end action-packed gaming experience. There are some other great new modes to experience including Headers & Volleys and one which only allows long-range goals to be scored.
FIFA Ultimate Team also benefits from the addition of the Champions League, while a new Division Rivals mode provides an online alternative to the hugely popular Squad Battles introduced last year. Unfortunately this year, Pro Clubs and Career Mode remain largely the same due to the time and resources put into adding the Champions League, but the official licensing has made Career Mode more realistic when it comes to playing in Europe. The majority of teams involved are fully licensed in FIFA 19, while Rae and Dixon make for a nice change of pace from the ubiquitous Martin Tyler and Alan Smith, with the new voices adding new stories and anecdotes such as former Arsenal defender Dixon's hatred of playing as a wing-back.
There's plenty of new teams and stadiums to explore too (Spurs' new ground will open in FIFA 19 before it does in real life), with the Chinese Super League finally fully playable. This sees highly-rated players like Hulk and Paulinho available once again after their moves to Asia and will also provide some exciting transfer stories in Career Mode as more players are drawn to the lure of big wages abroad.
Overall, FIFA 19 is an improvement on what's gone before. The best football game has gotten even better thanks to clever gameplay improvements like Timed Finishing and Active Touch, while the Champions League is something that has been long overdue. There is only one rightful home for the Champions League - the champion of football games.