Serie A
NSFW: Felipe Melo shows off gruesome eye injury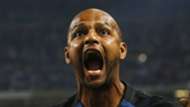 Inter-owned Felipe Melo has shown off the full extent of horrendous eye injury picked up during a clash of heads in Palmeiras' match up with Corinthians on Thursday.
RUMOURS: Man Utd up Neymar pursuit
The former Juventus man was forced to leave the pitch after he and Yerry Mina banged heads as they challenged for the same ball.
¡Increíble herida! Felipe Melo​ jugador del Sociedade Esportiva Palmeiras​, recibió este terrible cabezazo por su compañero Yerry Mina. pic.twitter.com/OilLhRTgQs

— Telemundo Deportes (@TelemundoSports) February 24, 2017
Melo, nicknamed 'the Pitbull', was forced to watch from the sidelines as Corinthians snatched a late winner, with former Premier League players Jo and Colin Kazim-Richards linking up.
The 33-year-old admitted that he wanted to stay on the pitch after the clashing of heads, but was in too much pain to continue.
"We regret this defeat. I tried to stay in the game after the shock but I was in pain and couldn't see anything. All I'm thinking about now is recovering and our team."
The wound will undoubtedly have required at least a handful of stitches, although  it is unlikely that the combative Melo will want to take and longer than is necessary before getting back on the pitch.