Malaysia
New Malaysia head coach will be a short-term hire, says TMJ
12:13 PM GMT+4
08/04/2017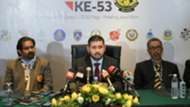 ---
BY        ZULHILMI ZAINAL       Follow on Twitter
---
The Malaysian FA (FAM) will seek to pay off the remuneration owed by the association to its state affiliates and M-League clubs in the coming week, said its president Tunku Ismail Sultan Ibrahim.
Speaking to reporters following an FAM executive committee meeting held in Kota Kinabalu, Sabah on Saturday, Tunku Ismail said that the amount, totalling RM9 million, is the money due to be received by the 24 teams participating in the Super League and Premier League.
Tunku Ismail, who is also known as TMJ by fans in the country, explained that this decision was taken so that the teams can pay off their debts.
"When FAM pays off what it owes to the teams, they should pay off their debts quickly.
"If not we will take immediate action (against them). After this don't give excuses that you can't because of FAM," explained Tunku Ismail.
And when the money has been paid, the clubs will have two weeks' time settle their debts, he added.
"Once they receive the money, I hope they can settle everything in two weeks' time. We can't give them three months' time every single time. This has been going on for so long," said Tunku Ismail.
He warned them however, that this is the last time that leeway will be given, cautioning the clubs that immediate action will be taken in the future.
"This is the last time that I'm going to supprt (them) and give time, if it still happens then in the future I will take immediate action. I don't want this to happen again.
"Among the punishments that can be taken are points deduction, fine and even relegation," warned the JDT owner.
Tunku Ismail also provided more updates on the situation regarding the new national team head coach's appointment.
Reiterating that discussions with former JDT head coach Mario Gomez have fallen through, he said that he will now focus on finding new candidates who will take over for a shorter term, due to the financial limitations faced by the association.
"We have a few candidates that we are looking at, definitely still a foreign coach. Therefore we do not rush because the budget that we have is very very small, FAM has no money.
"We have to approach these coaches, tell them our budget, for how long we can sign them, and we will see who is interested the most.
"We definitely will pick the candidate who is most suitable for the time being, for this short period of time," explained the Crown Prince of Johor.
He also added that the Australia U23 head coach, Josep Gombau who previously has also been mentioned as one of the candidates, will not be hired for the time being.
"Josep Gombau is interested but not now, because of his commitment with the Australia national team. But for a long-term plan, he is the most suitable candidate, but maybe in the future," said Tunku Ismail.
He also told the media that the new national team assistant head coach, Tan Cheng Hoe will only join the set up when his club Kedah let him go.
"That is up to Kedah, when Kedah want to let him leave and when he wants to leave.
"That is up to him and up to Kedah, not up to us (FAM). FAM is open to any suggestions that ease the clubs and assist them," he responded.