Chelsea
Fabregas: I'll try to make Messi uncomfortable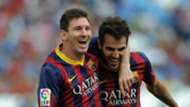 Cesc Fabregas says that he is motivated to face Lionel Messi on Wednesday and is ready to do everything possible to make life uncomfortable for his former Barcelona club-mate.
The 30-year-old Spain international midfielder played with Barcelona from 2011 until 2014, having previously been at the club's La Masia training academy. During his time with the first team, he played alongside the Argentine, whom he will now come face to face with again in a vital Champions League clash.
Chelsea held Barcelona to a 1-1 draw at Stamford Bridge and are aiming to produce a shock in Spain on Wednesday, which could see Cesc put in almost direct competition with the Barca attacker.
"If I am lucky enough to play, it's true that we are positioned in nearby areas of the pitch, stopping him will be difficult but I will try to do everything possible so that he feels uncomfortable and can't put together a perfect performance," he told Marca.
"I see him as a rival who wants to win, and I want the same thing. We are in different teams and each player wants what is best for their own club. Obviously, you always have respect for each other."
Fabregas feels that the Blues have a chance of progression, despite comparatively indifferent domestic form that has seen them drop out of the Premier League's top four.
"It's difficult as the Camp Nou is very big and you have to run a lot, but we'll work together," he said. "The key is to take advantage of our opportunities, we have to play our game but do damage when possible. 
"I've never trained tactically as much as I have at Chelsea and it shows on the pitch. It's demanding but we end up benefitting from it."
Indeed, he believes that if Antonio Conte's men can replicate their first-leg performance, that will stand them in good stead.
"They hardly had any chances," he reflected. "Even if it's true that Barcelona controlled possession, they didn't hurt us with it. The times when we attacked, we did it with purpose and we were a danger. Their goal came from a small mistake which could happen to any of us, but a draw against Barcelona is never a bad result."
A draw would be enough for Chelsea on Wednesday, though only of the high-scoring variety due to Barcelona's away goal.