African All Stars
EXTRA TIME: Incredible scenes as Ronaldinho visits Ethiopia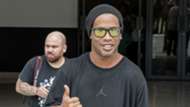 Thousands of Ethiopians trooped out to welcome two-time Fifa World Player of the Year Ronaldinho, who brought with him the Uefa Champions League trophy to the country.
The Barcelona legend, in continuation of the Champions League trophy tour, visited Ethiopia for the first time and was amazed by the excited crowd he met at the Addis Ababa National Stadium.
And the 38 year-old who called time on his career in January described the reception as incredible.
"Ethiopia is incredible! I did not expect to be so cared for in my life! I have no words to thank everyone. These are images of a lifetime dedicated to football, it was worth it, every minute!," Ronaldinho tweeted.
Etiópia 🇪🇹 incrível!!! Não imaginava receber tanto carinho na minha vida! Não tenho palavras para agradecer a todos. São imagens de uma vida toda dedicada ao futebol, valeu a pena, cada minuto!!! #ShareTheTrophy @Heineken pic.twitter.com/NN4qi8OSfw

— Ronaldinho Gaúcho (@10Ronaldinho) April 15, 2018
🤙🏾 🇪🇹 #ShareTheTrophy@Heineken @ChampionsLeague pic.twitter.com/8FT2GmfVsP

— Ronaldinho Gaúcho (@10Ronaldinho) April 15, 2018
🤙🏾 🇪🇹 #ShareTheTrophy@Heineken @ChampionsLeague pic.twitter.com/iv2m30vLrc

— Ronaldinho Gaúcho (@10Ronaldinho) April 15, 2018
🤙🏾 🇪🇹 #ShareTheTrophy@Heineken @ChampionsLeague pic.twitter.com/jfhwUzi5yO

— Ronaldinho Gaúcho (@10Ronaldinho) April 15, 2018
🤙🏾 🇪🇹 #ShareTheTrophy@Heineken @ChampionsLeague pic.twitter.com/0E7Tr6gNR5

— Ronaldinho Gaúcho (@10Ronaldinho) April 15, 2018