Spain face Italy, Wales play Northern Ireland - the Euro 2016 last-16 fixtures in full
Euro 2016 has completed its group stage and we now know who will face whom when the last 16 gets started on Saturday.
Hosts France topped Group A and, as a reward, will take on Republic of Ireland, who finished as one of the best third-placed teams thanks to their late rally to beat Italy in the final game of Group E. Didier Deschamps's men will play their round-of-16 tie in Lyon on Sunday.
The winner of that game will take on either England or Iceland after the latter's late, late winner against Austria lifted them into second place in Group F to set up a showdown with Roy Hodgson's men in Nice on Monday.
Switzerland, who finished as runners-up to France in Group A, must now prepare for a game against Poland, who came in second in Group C, to take place in Saint-Etienne on Saturday. Also playing on that day will be Croatia and Portugal, who scraped through Group F in third, and the winner of that meeting in Lens will take on Switzerland or Poland in a Marseille quarter-final.
Wales roared to the top of Group B, inspired by the prolific Gareth Bale, and are rewarded with an all-British match against Northern Ireland, the third-placed finishers from Group C, in Paris on Saturday. For whichever of the two progresses, it would mean a quarter-final against Hungary (who won Group F) or Belgium (second in Group E) following their last-16 encounter in Toulouse on Sunday.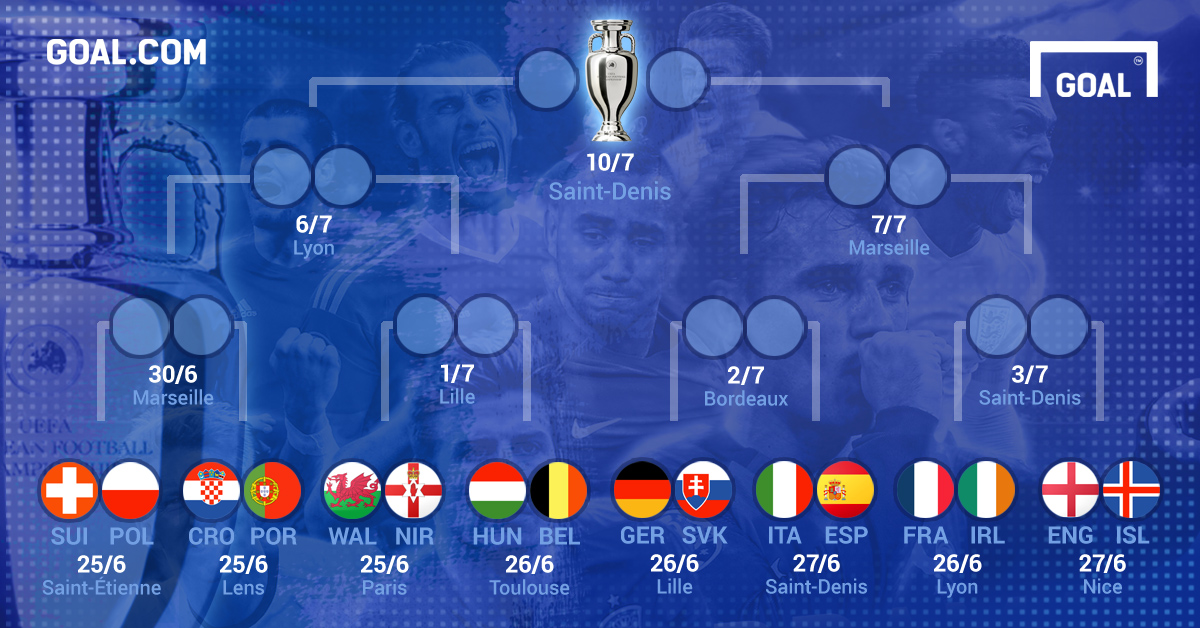 Germany were one of the few favourites to do as expected and win their group and will consequently take on Slovakia, third-placed finishers from Group B, in a knockout game in Lille on Sunday.
Meanwhile, Italy will take on Spain in the highest-profile game of the round thanks to the holders' failure to top Group D - Saint-Denis will play host to that one on Monday. The winner will be expecting to face Germany in Bordeaux on July 2.
It was bad news for Turkey and Albania, however, whose poor goal differences saw them miss out on taking slots for the best third-placed teams. They join Romania, Russia, Ukraine, Czech Republic, Sweden and Austria in exiting the tournament.