Barcelona
Deulofeu: Barcelona flop my own fault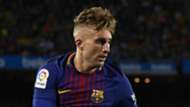 Gerard Deulofeu has admitted that his poor spell at Barcelona is his own fault and that he does not expect to forge a career at Camp Nou.
The Spaniard, signed by the Catalan giants from Everton last summer, is spending the second half of the season on loan at Watford after failing to make the grade under Ernesto Valverde in the first half of the campaign.
Deulofeu has since played in just four Premier League games for Watford, scoring once and providing one assist, and he insists he does not hold any ill will against Barca.
"A lot of it is my fault," he told Esports Cope, when asked about his poor form.
"At the end of the day, it's me who has to earn the right to play more. I think I was better off the bench than when I had the chance to start games.
"I know I didn't prove myself. I believe in myself more than anyone, but I recognise I was not consistent enough.
"I told [Ernesto Valverde] when I left [for Watford] that a lot of it was my fault because he'd given me the opportunities I wanted."
Barcelona signed Philippe Coutinho from Liverpool in January and Ousmane Dembele from Borussia Dortmund last summer to compensate for the loss of Neymar to PSG.
And Deulofeu does not believe he will return to Camp Nou, accepting that he may have missed his chance in Catalunya.
"I think it will be very difficult to go back," he said. "You don't have to be too clever to know that if Barcelona loaned me to another team, it's because they have little interest in me.
"I was also in agreement that I had to leave because I hadn't played for a month-and-a-half and things weren't working out.
"I want to play and be happy. I am not happy being on the bench.
"At the end of the season, we will have to talk to Barca and my agent, but I can't say what will happen because I don't know myself."